Life in the city can get hectic sometimes and taking a breather somewhere outdoors can help ease the stress. If escaping to a park is not an option (if you're working in downtown CBD), check out these rooftop gardens in the city where you can take a moment, catch a break from shopping and excel sheets or even bring your lunch for a break from the usual desk and desktop set-up in the office.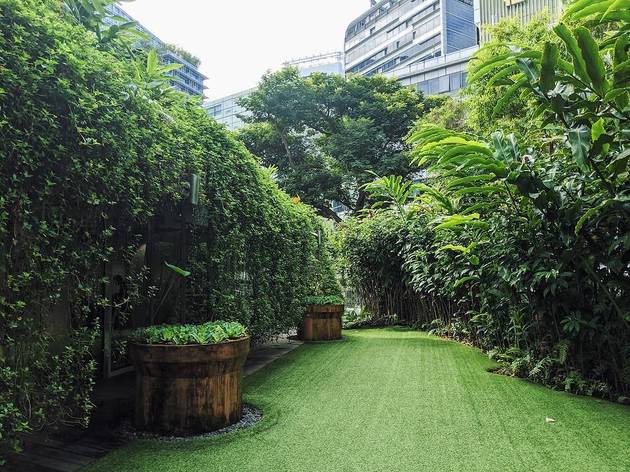 Photograph: Delfina Utomo
Shopping Lifestyle Orchard
The two-and-a-half storey concrete building in the heart of Orchard Road is home to a fresh selection of Singaporean designers and makers like Kydra, Onlewo, The Animal Project, Pinksalt Swim and more. But climb to the second storey and you'll find a sprawling open space with seats and an open-air amphitheatre. The café-hopping crowd can enjoy a cuppa at the minimalist café Alchemist which is pretty hidden atop the amphitheatre stairs.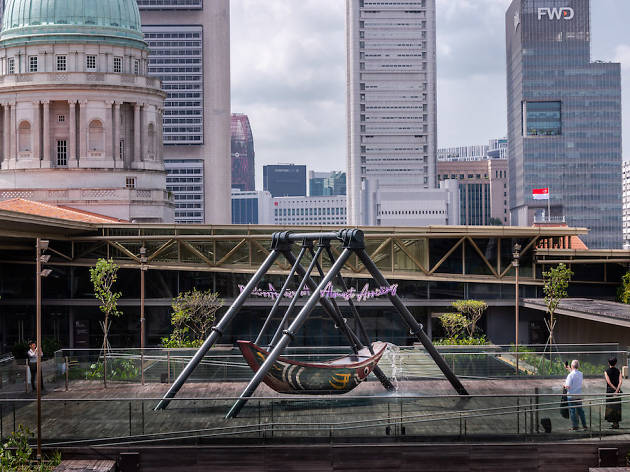 Photography: National Gallery Singapore
Art City Hall
The largest art gallery in Singapore also houses one of the prettiest rooftop gardens in town. The concrete space is also an urban jungle, with green walls all around, a water feature, views of downtown Singapore, benches for pensive thinking and plenty of ferns lending to the lush vibes of the garden. On display at the rooftop garden from January 17 to October 25 is the stunning kinetic sculpture by contemporary artist Cao Fei. The installation comprising a five-metre tall structure of a swinging wooden ship is accompanied by soundscapes.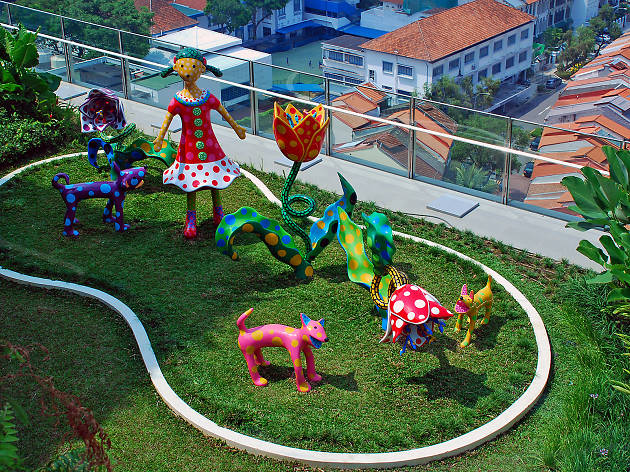 Photograph: Choo Yut Shing/Flickr
Attractions Arcades and amusements Raffles Place
Nestled on the top of Orchard Central lies an unsuspecting garden overlooking the city. The rooftop garden provides a panoramic view of Singapore, coupled with the soothing sound of waterfalls at the background. It is a great place to seek respite from a humdrum day of work and an optimal place for some alone time. It even has Yayoi Kusama sculptures if you're a fan.
Photo: Comcrop
Shopping Shopping centres Orchard
The *SCAPE building may be a hub for youth activities in Orchard Road but climb to the top and you'll find a sustainable and aquaponics farm, Comcrop. The space is used to grow basil, leafy greens, mint, and more which go to supplying hotels, restaurants and also supermarkets. You can buy a bag of veggies or herbs – and even its own bottle of pesto.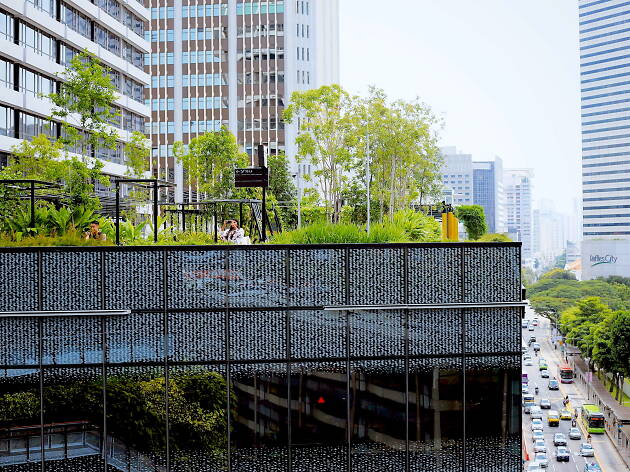 Photograph: Edible Garden City
Things to do Walks and tours City Hall
Take a breather from the retail jungle of Funan and step out (and up) to the Urban Farm operated by Edible Garden City – who has long championed the grow-your-own-food movement in Singapore. Located on the seventh storey of Funan is an 18,000sq ft Food Garden where you can find more than 50 types of fruits and vegetables including mushrooms, edible flowers, okra, basil, mint, watermelon, lemongrass and passionfruit. The urban farm is also open to the public (one of the few!) and is a space where visitors can learn how vegetables are produced and harvested.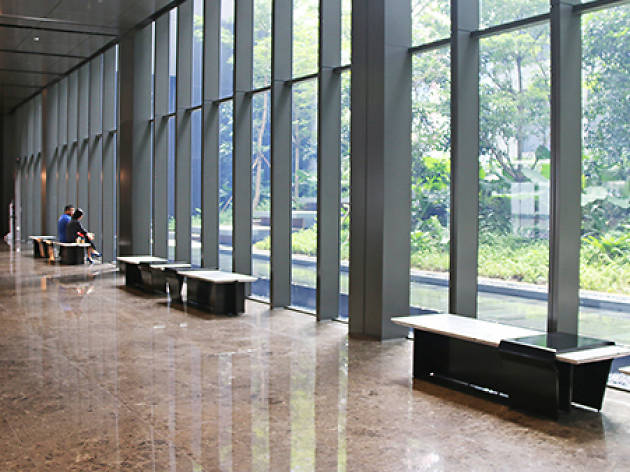 Photo: OUE Downtown
Hotels Residential hotels Raffles Place
Located in the heart of Tanjong Pagar, OUE is a bustling lifestyle hub. With several eateries, shops, a hotel, offices and other lifestyle concepts, this building is constantly busy. It's not exactly a rooftop garden but its the highest you can get when it comes to public access. Head to the outdoor garden on the 5th floor for some respite. A minimalist water feature flows through the garden which overlooks the other skyscrapers in the area. Make this new spot for lunch!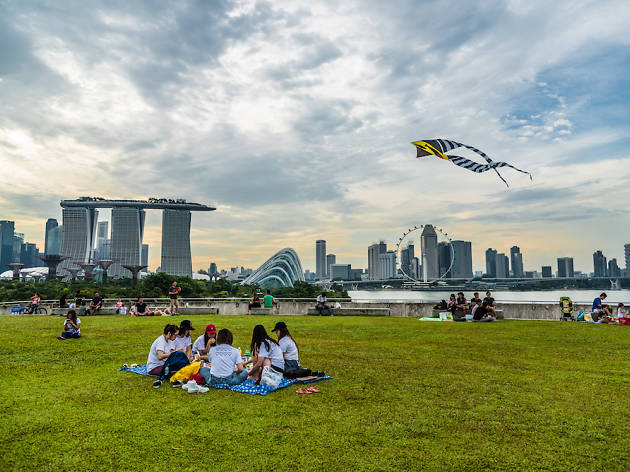 Things to do Marina Bay
The huge rooftop field at Marina Barrage attracts couples and families all year round thanks to its breathtaking 360º view of the bay area. Bring your own kite to sail in the bay's gusty winds or pick one up from among the cavalcade of colourful creations in the kite shop on the grounds. Besides flying kites, the park is a popular venue for yoga, jogging and kayaking – and there are even a few restaurants nearby.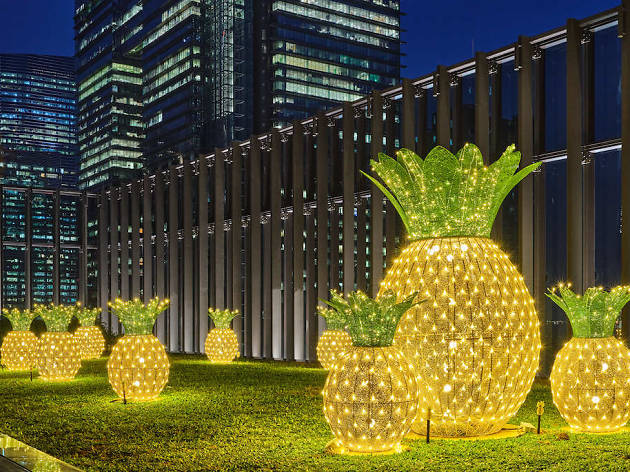 Photograph: Singapore Chinese Cultural Centre
Things to do Cultural centres Tanjong Pagar
Located in the CBD, the SCCC collaborates with arts and cultural groups, community partners and independent parties to help promote and develop Chinese culture in Singapore. You'll find many exhibitions, fairs, performances, workshops and more happening here throughout the year but for some respite, head to the rooftop garden that overlooks the sea and the city.