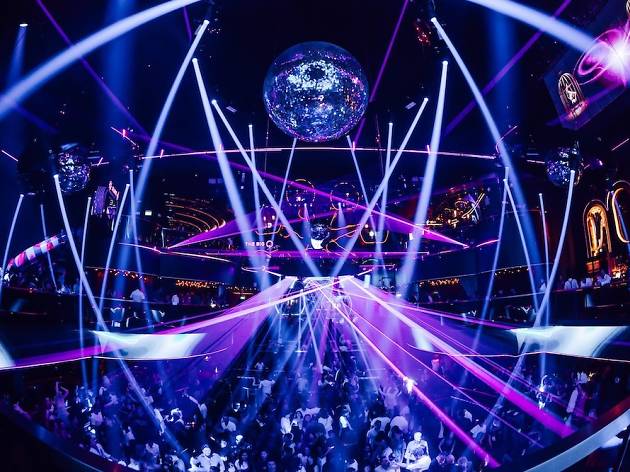 Nightlife Clubs Marina Bay
Welcome the weekend with a memorable nocturnal carnival experience at this nightlife superstar. Priding itself as the biggest nightclub in the city, the indoor adult playground stretches over 2,300-square-metres across three floors with sky-high ceilings that tower up to 30 metres, and features a giant indoor Ferris wheel that offers revellers an unparalleled view of the nightclub. Beyond highly talented resident spinners, heavyweight entertainers and DJs from the dance music spectrum are also invited to helm its state-of-the-art Funktion One DJ console.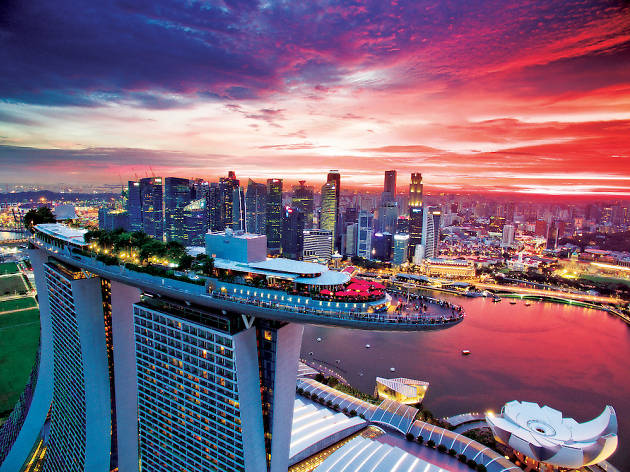 Bars and pubs Marina Bay
Cé La Vi is one of the top (geddit?) ones – and its climb to the 67th spot in the DJMag's Top 100 Clubs of 2018 list is a testament to that. Boasting 360-degree views over the lion city, Cé La Vi is a hot spot to be seen. If you want to fit in with its A-list frequenters then be sure to dress the part. The club is known for throwing some incredible parties DJ'd by local and international names including Armin van Buuren, Fedde le Grand, Bob Sinclar, Roger Sanchez and Jazzy Jeff. Music genres range from nu-disco to house, and dance hip-hop to afro-Latin.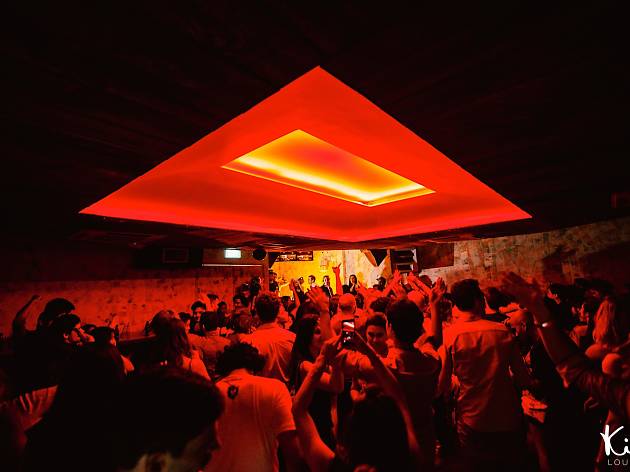 Clubs Tanjong Pagar
Concealed behind a graffiti-covered back alley, Kilo Lounge is a cool party spot for young hipsters in the know. Here, you can roll on the good times to a soundtrack of hip-hop, techno, reggae or dub. If 7-Eleven sandwiches don't quite cut it for you, the best thing about Kilo is the after-club-hours food stand, Kilo Merienda. Here, hungry night owls can feast on classic post-party grub including BBQ Pulled Pork Tacos and NY Beef Frank hotdogs. We'd highly recommend you to make the most at Kilo Lounge as it's been confirmed that it is ceasing operations on December 31, 2019.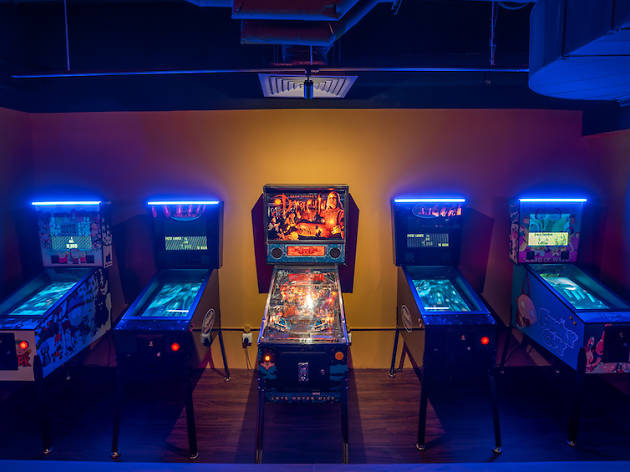 Bars and pubs Rochor
Not a nightclub per sé, but it sure turns up the temperature later into the night. The new drinking den switches into club mode with a roster of DJs including Weelikeme of Eatmepoptart and Nineteen80 residents Ollie'des, Ya5th and Bobos helming the decks. Show off your best moves on the dancefloor as you groove to a mix of pop, rock, hip-hop, R&B, alternative and dance hits from the 90s to now.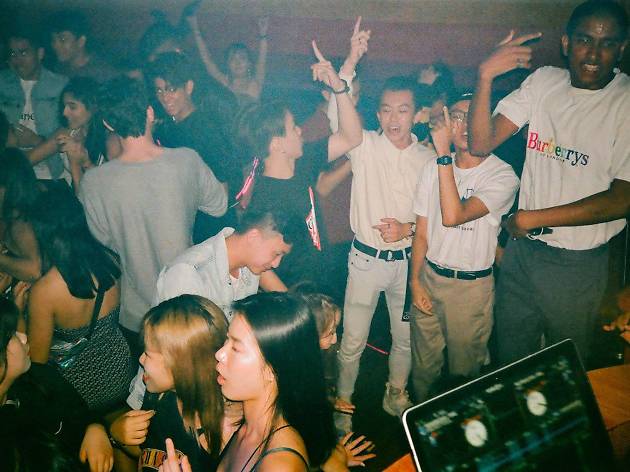 Photo: Cherry Discotheque
Nightlife Clubs Raffles Place
A cool kid's cave, Cherry Discotheque is the epitome of underground parties. It first opened doors in 2016 beneath York Hotel before relocating to Cecil Street. Nonetheless, the only-opened-on-Fridays-and-Saturdays club continues to promise a wild and fun night every time. Flex your streetwear drip and get wavy with the sleek spins of new and old-school hip-hop.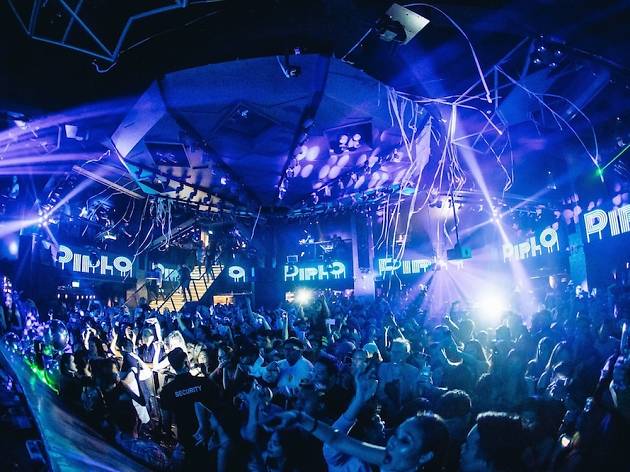 Clubs Raffles Place
Singapore's longest-running, icon of a nightclub first opened its doors to revellers back in 1991, famously championing and propelling the dance music movement throughout Asia. Loved by generations, it continues to stand the test of time and stay ahead of trends. Zouk has evolved from funky upstart to an institution attracting some of the biggest names in dance music including Avicii, Paul Oakenfold, Hardwell and The Chemical Brothers. Anyone who's anyone on the Southeast Asian clubbing circuit has passed through its doors, so if that doesn't include you... then what are you waiting for?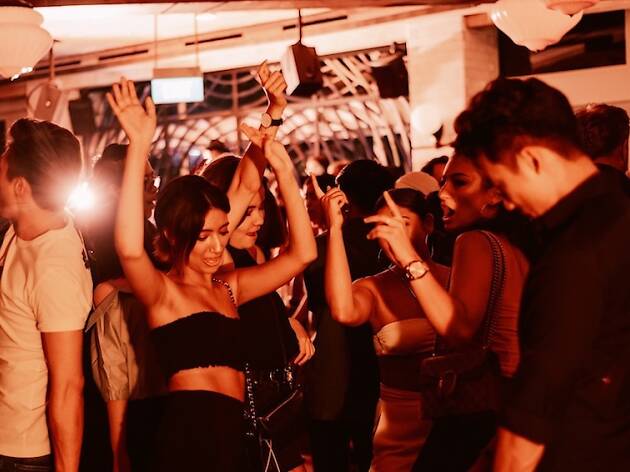 Restaurants Italian Marina Bay
Go from dining to dancing the night away at this swanky New York vibe-dining concept. Roped in by Tao Group – the party masterminds behind the hangouts of A-list celebs like New York, Las Vegas and Sydney's Marquee – Lavo is an Italian restaurant, rooftop bar and swish party venue all under one roof at Marina Bay Sands. Did we mention that Jamie Foxx and Jermaine Dupri have helmed the decks here?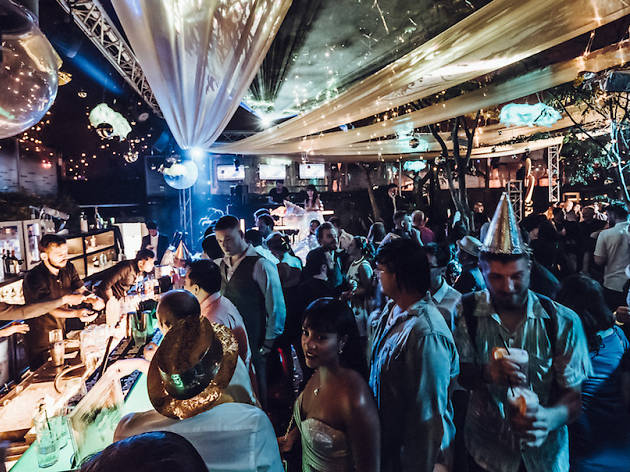 Clubs Raffles Place
If organisation isn't your strongest suit then 1-Altitude is a swanky no brainer. The venue is a restaurant, bar and nightclub spread over three floors, taking the fuss out of party planning. Once you've line your stomachs at Stellar and get Instagram duties out the way at 1-Altitude Gallery & Bar, let loose on the 61st floor nightclub, Altimate, with hi-tech visual and sound effects bouncing from body to body.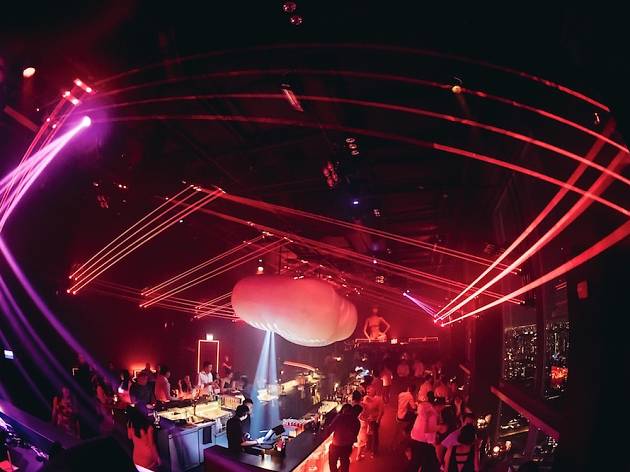 Clubs House, disco and techno City Hall
The iconic nightclub from The Bund in Shanghai has ventured over to Singapore shores, opening on the 71st floor of Swissôtel The Stamford. Designed by Shanghai-based NAÇO, one of the club's most striking features is a jaw-dropping cloud-shaped art installation hanging above the centre bar – it's also a handy meeting spot when you lose your pals. Each month, Bar Rouge hosts exciting themed nights including entertainment from aerial dancers and hotshot DJ's. If the VIP treatment sounds like your kind of thing, there's a VIP Mezzanine on the 72nd floor with room for 50 guests.
Nightlife Clubs Raffles Place
A sophisticated nightspot for the working professional crowd to unwind after a long week in the office, this sky lounge sits 45 floors above the CBD, right next to Raffles Place MRT, also making it perfect to catch the sunset as the surrounding buildings illuminate the city. There are happy hour deals from Monday to Saturday, and every Friday and Saturday night from 10pm, there's a dual late-night party series featuring top local DJs spinning chart hits to hip-hop and electro. PS: the bar also stocks huge sized champagne bottles for thirsty clubbers to refuel on.
Clubs Sentosa
Did you know that one of the worlds' best beach clubs lies on sunny Sentosa? Lucky, lucky us! Besides serving refined plates inspired by coastal cuisines from around the world and innovative cocktails, the beach club also hosts epic Barefoot Tiki Nights and Smack My Beach Up raves where local and international guest DJs are invited to helm the decks for an Ibiza-esque shindig. Boogie down on the sandy dancefloor to a mix of sunshine soul, Balearic house, beach boogie and horizontal disco. Of course, beachwear is recommended.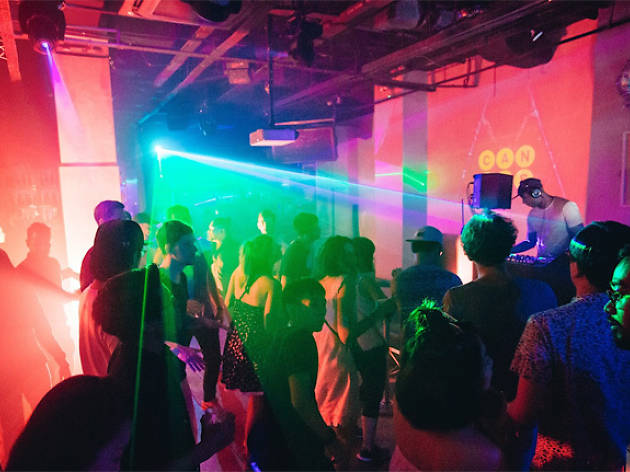 Photo: CANVAS
Clubs Raffles Place
Creative space by day, a super turnt club by night. Music-wise, resident DJs helm the decks at Canvas to bring an avant-garde spin on the sounds of nu disco, house and techno – aiming for a cross between mainstream and indie – to the dancefloor. Look out for themed parties and regular anchor nights, plus a striking audiovisual experience here.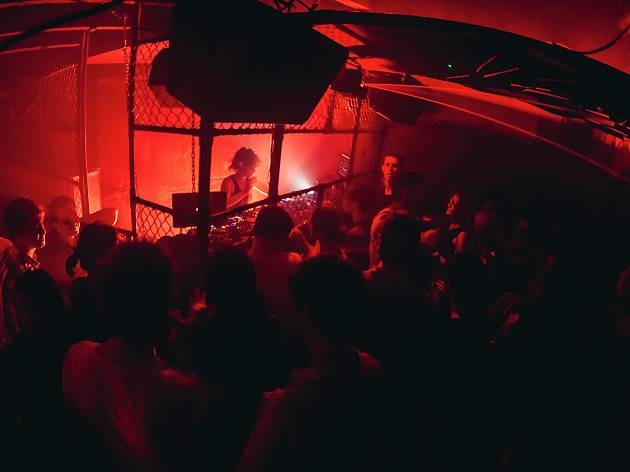 Nightlife Raffles Place
Housed in a dingy space that's set with laser lights and a cage behind which the likes of Eric Duncan, Kaiser Souzai and Mat.Joe have spun, Headquarters by The Council plays host to its signature parties from Wednesdays to Sundays. Get your booze fix in the standing bar tucked in one corner of the venue while grooving to all manner of techno, house and disco, whether from guest DJs or residents Julien Brochard, KFC, Yadin and Eileen Chan (Cats on Crack) – who also happens to be one half of The Council.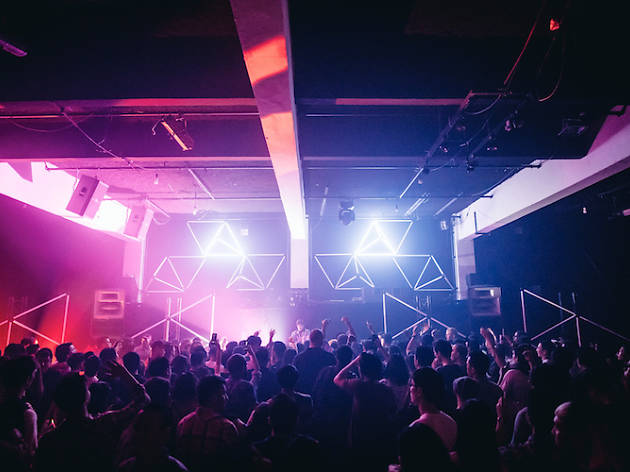 Nightlife Clubs Raffles Place
Nightlife institution The Council knows just how to turn mundane spaces into epic rave fests. Cheekily named Tuff Club (we're assuming it's a homage to the good ol' days of primary school's TAF club), the pop-up nightclub is held twice every week. Follow its website and socials to get first dibs on its next rager that's bound to get you working up a sweat with its unmissable line-up of upbeat bangers.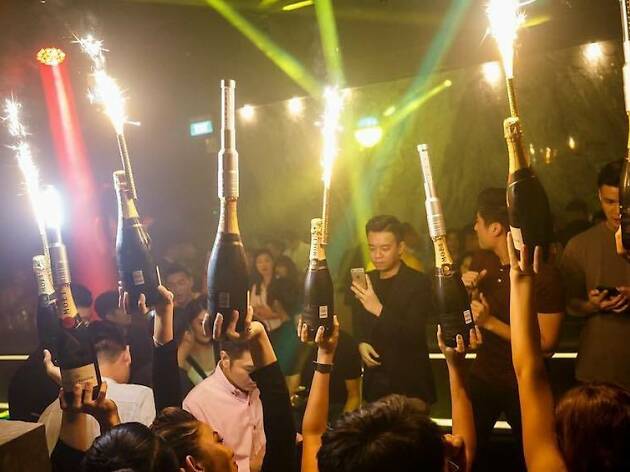 Clubs Hip hop and R&B City Hall
An intimate nightclub perched atop Suntec City, adorned with décor inspired by the charms of the Georgian era? Sounds like a party. Dress to the nines and indulge in a night of euphoria filled with old school hip-hop and R&B, as well as some of the illest remixes to keep those bodies moving.
Clubs Hip hop and R&B City Hall
Named after a fictional owner, Lulu's is the darling of Singapore's impeccably dressed it-crowd, seducing them night after night with her sexy yet quirky interiors on Raffles Boulevard. Open from 9pm 'til dawn, expect an animated nightlife experience whether you're throwing shapes on the dance floor or knocking back cocktails on the outdoor terrace with new friends. Entertainment ranges from drag shows to burlesque dancers – if you fancy a bit of nipple with your tipple – to live jazz and acoustic sets under starlight.
Clubs House, disco and techno City Hall
Wink wink, nudge nudge, bang bang…in that order. This nightclub at Pan Pacific Hotel is a high energy buffet of crazy times. Partygoers come dressed to impress but leave all inhibitions at the door. Celebs from Will-I-Am to LMFAO have partied here, so you know you're in trendy company. The club uses state-of-the-art L'Acoustics sound system and a 45-foot-long high-resolution LED wall to help elevate guest experience to the new heights. Expect a steady stream of local and international guest DJs spinning a mix of nu-disco, deep house, hip-hop and more. Look out for the occasional pillow fight and bear mascot, too.
Clubs Raffles Place
The wildest sister out of the nightclub family, Attica has seen big names like Paul Oakenfold, Jonathan Ulysses and Dirty South helm the decks. The ground floor spins a mix of hip hop, R&B and Top 40s, while the second floor space unleashes a slew of electronic dance and house beats. And if you're looking to get sloshed, down a few glasses of their signature cocktail, the Chemist – a lethal mix of champagne, vodka, Red Bull and cranberry. Party on!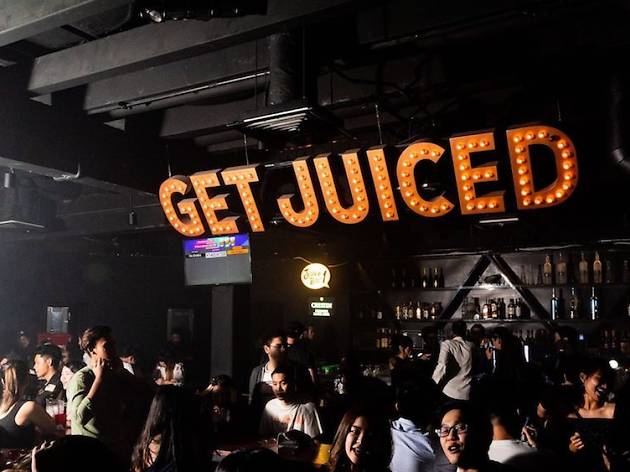 Nightlife Clubs Raffles Place
This cashless club allows party-goers to enter for free. The venue hosts DJs and party playlists consisting of a plethora of genres from hip-hop to chill lounge, as well as electronic party bootlegs and anthems. Download the Get Juiced app and enjoy special deals such as drinks from $5 without having to queue.