In search of the perfect over-the-top bouquet to surprise your lover on a special occasion? Or just looking for some lovely blooms to beautify your home? Whatever the reason – you don't really need one – there's no denying that a lovely bunch of flowers can make anyone's day. Whatever your style is, be it rustic and wild or a neat cluster of peonies, we pick our favourite florists in town that offers the best bunch for any occasion to fit your preference.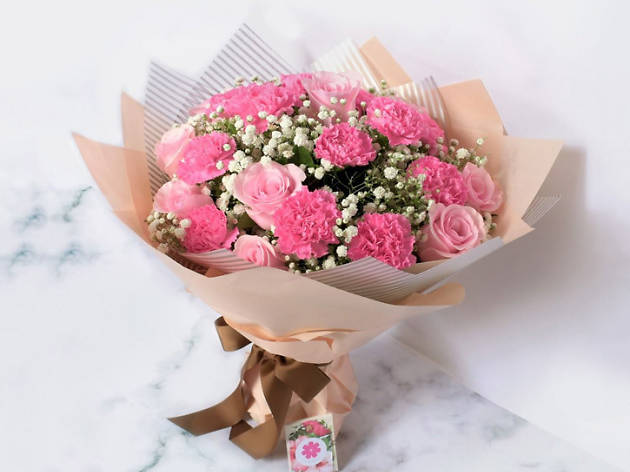 With round-the-clock delivery services, Singapore florist Ferns N Petals is an absolute lifesaver for those that need a bouquet pronto. Bouquets are priced from an affordable $29, and you can choose from several delivery options. Enjoy same-day delivery if you place your order before 8pm. There's also midnight delivery, which is perfect for that on-the-dot birthday surprise. And for those in a rush, there's one-hour delivery to get beautiful blooms delivered to your doorstep in no time at all.
Ferns N Petals distinguishes itself from other the other florists in Singapore by offering flowers, cakes, chocolates, plants, personalised gifts, Valentine's Day gifts and wine hampers as well. All you have to do is browse through the website and pick lovely gifts for your near and dear ones. It won't disappoint when it comes to timely delivery and high-quality products.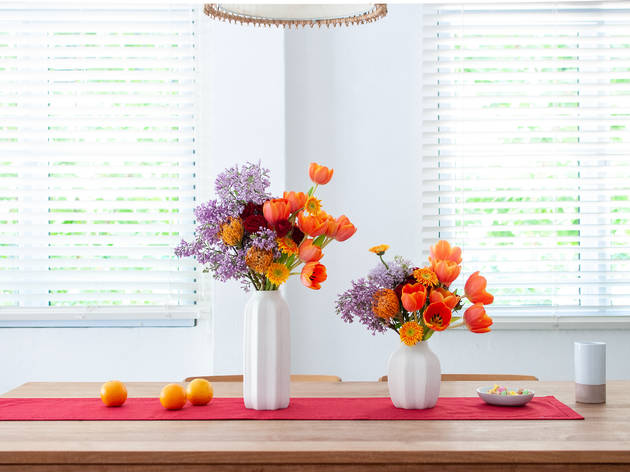 Full of flower power, Wonderland Botanicals is a treasure trove of artfully arranged, contemporary decorations that go beyond the classic. Whether at its floral studio or online, you can find vase arrangements that are gorgeously designed for the modern home. Each composition is put together carefully with the freshest flora and foliage, making the most of the space and interior it will inhabit. Its Lunar New Year collection features bold and bright florals characterised by colour-popping oranges, soft lilacs and deep reds in a structural arrangement. Its Valentine's Day collection, on the other hand, draws inspiration from the most romantic cities around the world like Paris, Santorini, Melbourne and Tokyo, with each bouquet made to be a wishful escape with your loved one.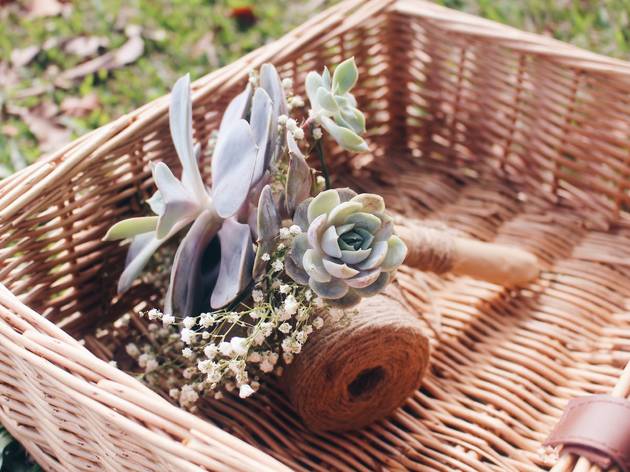 Echevaria.co
If you're tired of wilting roses, look no further than Echevaria.co. The online bouquet shop carries unique, succulent bouquets that can be easily repotted to last for life, a sustainable spin to the usual fresh blooms. The succulent bouquets are lovingly put together by 24-year-old founder Tan Hui Yin, with a smattering of lavender, baby's breath and eucalyptus in small ($50), medium ($75), or large ($100) sizes. For the whole repotting shebang, the bouquet set (additional $25) comes complete with a guide, a white pot, succulent soil, pebbles, and potting equipment. Otherwise, partner up with your boo and create your very own arrangement with Echevaria.co'sentine's Succulent Bouquet-Making Workshop, happening on February 6, 7 and 14.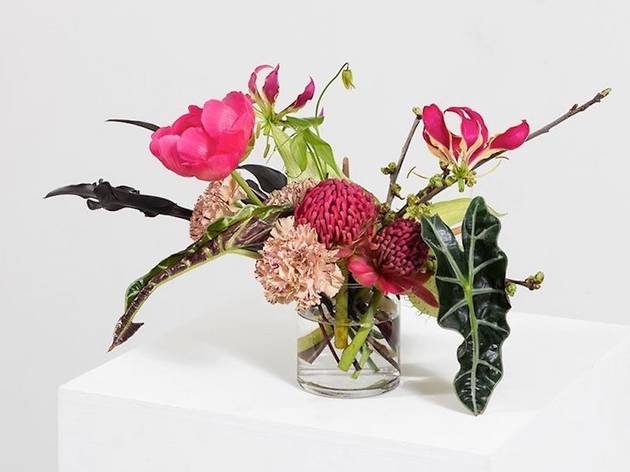 This Humid House
This botanical design studio shines with stunning floral artistry, priding itself in contemporary styles and arrangements. It also helms the Floral Concierge at Straits Clan where you can find refreshing arrangements and installations with a focus on tropical, best-in-season material. It ups the ante every festive season with its online holiday collections, from Chinese New Year to Christmas, where you can find stunning seasonal blooms in one gorgeous arrangement. And if you're looking to gift your boo this Valentine's Day, check out its rosy-hued flowers in beautiful bouquets and brass cubes. Can't get enough of its blooms? Sign up for its subscription service from $550.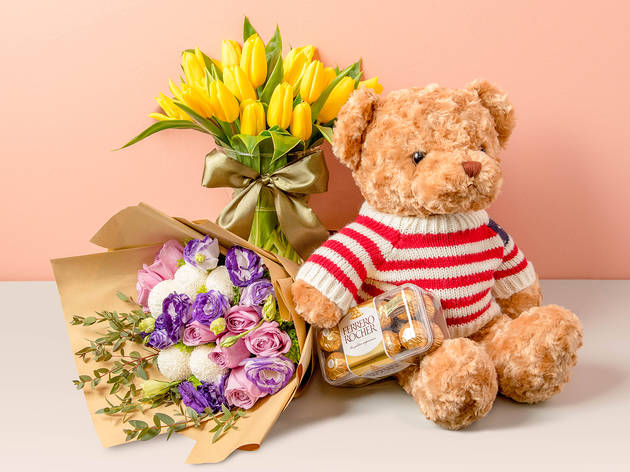 No matter the occasion, getting a lovely bunch of flowers delivered to your home is always a welcoming sight. There are all types of flowers and arrangements in Flower Chimp's extensive catalogue that you can purchase without breaking the bank. Whether you're looking for a flower stand or something that will cost less than $50, you have the freedom to shop by occasion, type of bouquet or flower and even budget on its website. Its Valentine's collection also makes a great gift for that special someone.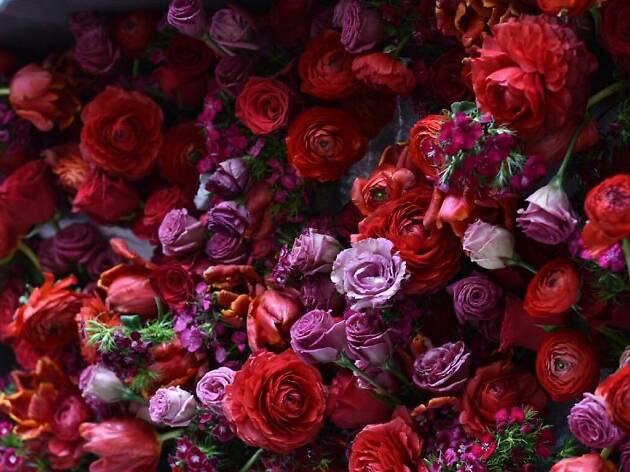 Fresh flowers? Charlotte Puxley. A name that has become synonymous with flowers in Singapore, there's no arguing that the arrangments and bouquets are quite the most beautiful you'll see. Her style is based on the English countryside, with a slight adaptation to the tropics so expect wild and wonderful bouquets that come in all shapes, colours and textures. One thing's for sure, each arrangement is unique.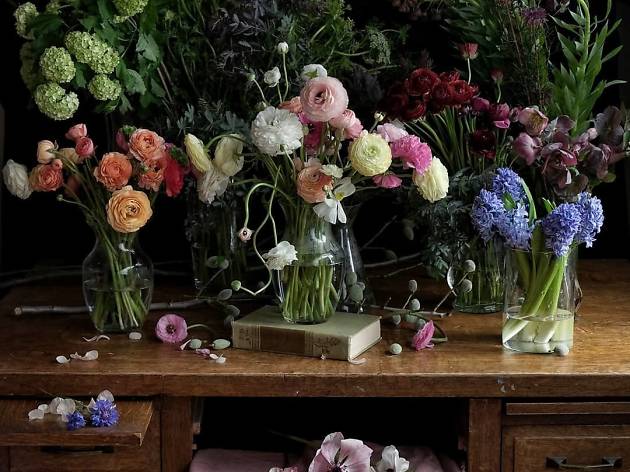 Ask A French Flowers
Inspire serious Instagram envy with the hand-tied bouquets and perfect floral arrangements of head florist Aude Giraud at Ask a French Flowers. Trained in Paris and Singapore, Aude has worked for private clients and corporate ones like Chanel. Like pieces of art, her arrangements take inspiration from the beauty of wild nature and classic still life paintings so you can expect effortless but beautiful bouquets that are both rustic and poetic.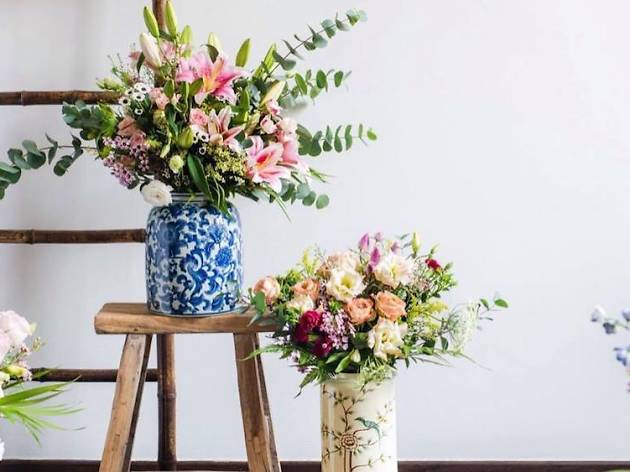 If you prefer picking out flowers at the comfort of your home, have them arranged by pro florists and delivered straight to your doorstep with free same-day delivery, look no further than online florist Flower Addict. Alternatively, smell the roses and style your own bouquet by signing up for its engaging workshops or make an appointment to drop by their showroom for more floral goodness.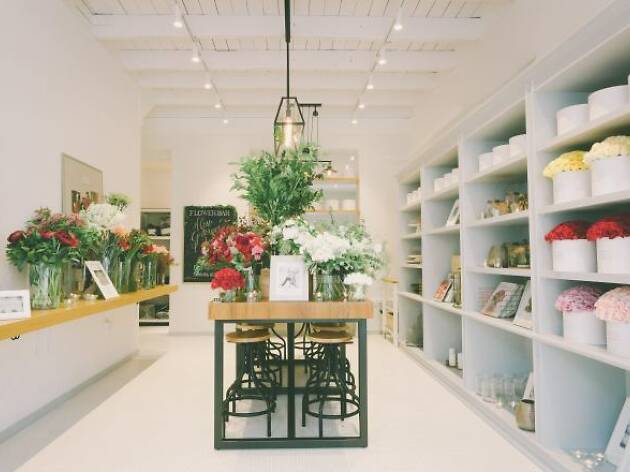 The Floral Atelier
Never miss an important event with The Floral Atelier – and you'll make some people happy along the way as well. The Forget Me Not service allows you to select five dates every year to send a bouquet to a special person so you look good. It also has Bloom Boxes where flowers are presented in beautiful and elegant round boxes so you never have to go searching for a vase.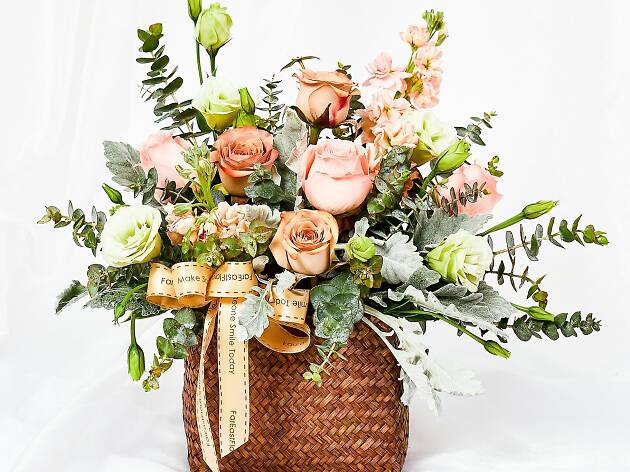 Looking to buy bouquets of flowers for that special someone or potted plants for home or office? Far East Flora is the ultimate shop for all your plants and gardening needs. They also do the delivery. Don't want to dray yourself out of the home? Just pick, choose and shop online.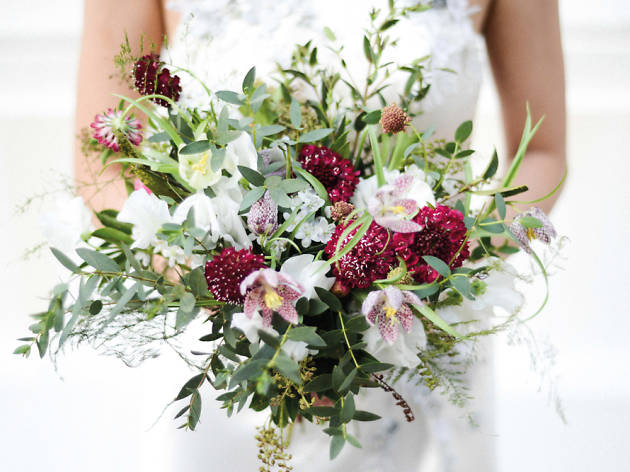 Trading her pen for a pair of gardening scissors, former advertising executive Sarah Lim followed her love for all things beautiful when she founded Poppy Flora Studio in 2000. Lim and her team handcraft every bouquet you see in the store. Don't expect uniformly rounded globes of roses – each flower is allowed to curve and bend to create an airy, bountiful and vibrant mix that looks as if, as Lim describes, they're 'dancing'.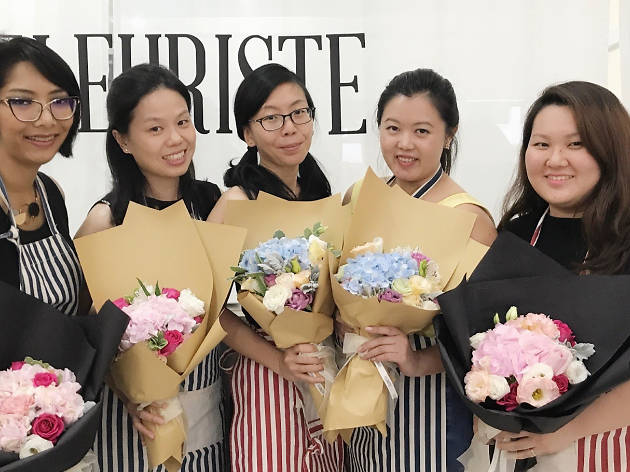 Boutique florist Fleuriste specialises in bespoke rustic bouquets that'll instantly brighten your home (and your Instagram feed). Always admired people with fresh flowers in their homes? Fleuriste's flower subscription service (from $60) will solve your flower-shopping woes with its specially curated vases. For a more Do-It-Yourself approach, sign up for one of Fleuriste's flower arrangement courses. Learn varying bouquet design techniques and get insider tips on how to look after your blooms. You can also plan a private floral-arrangement workshop session with your girlfriends.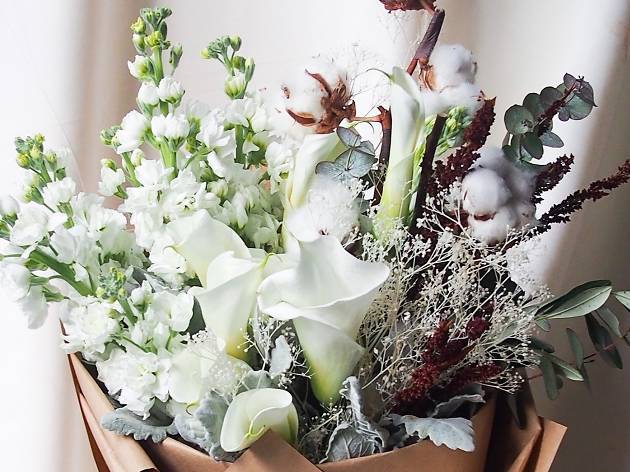 Floral Magic has been in the local floral scene for almost a decade as a family-run business fronted by women across three generations. Floral Magic's creations are inspired by nature featuring bouquets like Winter (from $150) with frosty fresh flowers, foliage with dried cotton and baby's breath. The Soft Shades Roses bouquet (from $120) showcases a medley soft luscious pink roses with a selection of peach and white blooms to make a sweet, romantic gesture. Get the gorgeous Omakase Preserved (from $100) where you basically leave it up to them to craft a wildly textured unique bouquet for you using preserved flora and foliage.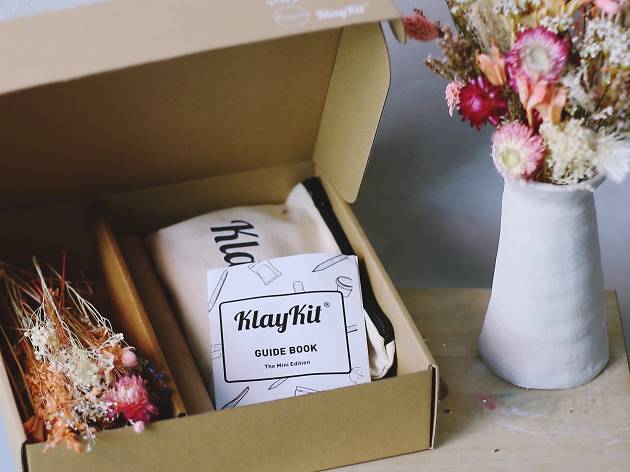 After creating floral magic for two decades in the far east neighbourhood of Pasir Ris, Windflower Florist has now relocated to their new head office in Bartley. An exclusive product is its Love, Hands on DIY kit ($75) with clay packets, a blending tool, a rolling pin and a bundle of dried blooms. A handy guide is included with instructions on flower arranging and how to make a clay jar. Choose from the delightful selection of wrapped bouquet flowers like the Macchiato ($65), A Study In White 2.0 ($50), J'adore ($70), which comes with Holland Menta Roses accompanied with Matthiolas and wild foliage.