We can all agree that Singapore's weather is pretty temperamental – one second it's scorching hot and the next, it's pouring rain. But if there's anything we should be thankful for, it's how we're able to spend time outdoors comfortably regardless of the 'season'. To appreciate this tropical weather of ours, as well as city views or lush scenery, hit up any of these alfresco bars around town.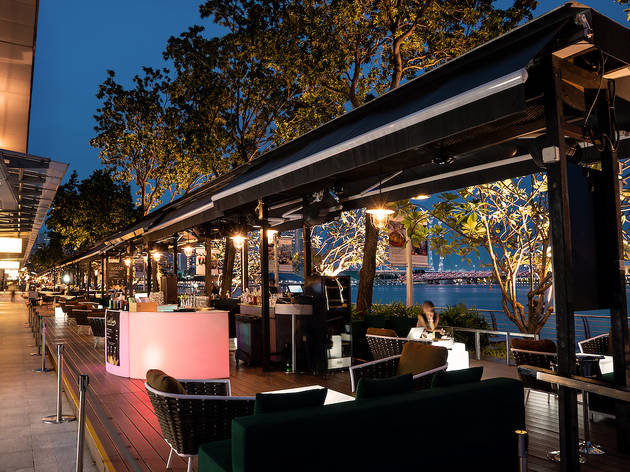 Photograph: Monti's Patio
Restaurants Raffles Place
The alfresco deck of now-closed The Pelican has since been transformed into Monti's Patio, a two-month pop-up watering hole. The pet-friendly space offers prime views of the Marina Bay, and comes with a menu that celebrates Monti's signature Italian flavours. Oven-baked wings ($16), truffle pizza ($30), and a ribeye steak ($69) are available to pair with the bar's affordable $12 house pours during its all-day happy hour promotion. But the main highlight is the Rosé-a-go-go ($78) event, happening every Friday to Sunday. For three hours (time slots run from 4.30pm to 7.30pm, and 7.30pm to 10.30pm), enjoy free-flowing drinks and Italian bites against the backdrop of unbeatable views.
Photograph: Caffe Fernet
Restaurants Italian Raffles Place
Over at Caffe Fernet, the charming alfresco bar hopes to encourage you to start drinking early – with its refreshed menu that embraces Italian aperitivo culture. Say cheers, or cin cin as the Italians do with happy hour starting from when doors open, right till 7pm every day. Have the Sicilian spritz ($17), a refreshing number made with Italicus, Aperol, prosecco, soda, and a splash of olive brine to lend a savoury note; or get the Bicicletta ($17). It's typically made with dry white wine and Campari, but at Caffe Fernet, the dark red liqueur is swapped out for Aperitivo Select, which comes with hints of vanilla, instead.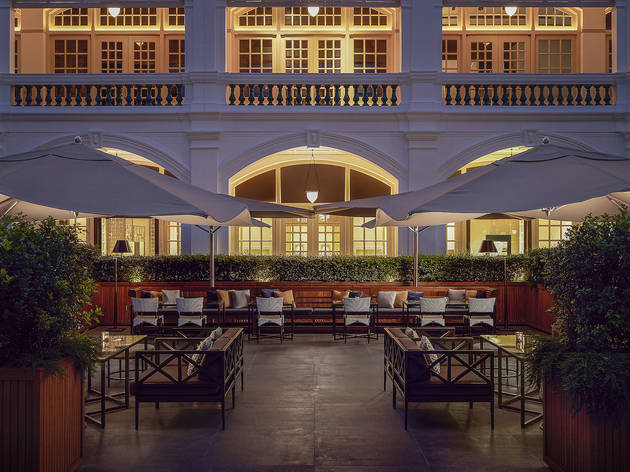 Photograph: Raffles Hotel Singapore
Restaurants City Hall
The idyllic open-air hideout, located within the storied grounds of Raffles Hotel Singapore, makes for a great alfresco café in the day. But come sunset, the place turns into an outdoor bar, with an attractive all-day Happy Hour promotion where selected hour pours go for just $10. Other highlights include the Beach Road Pale Ale ($22), brewed exclusively for the hotel.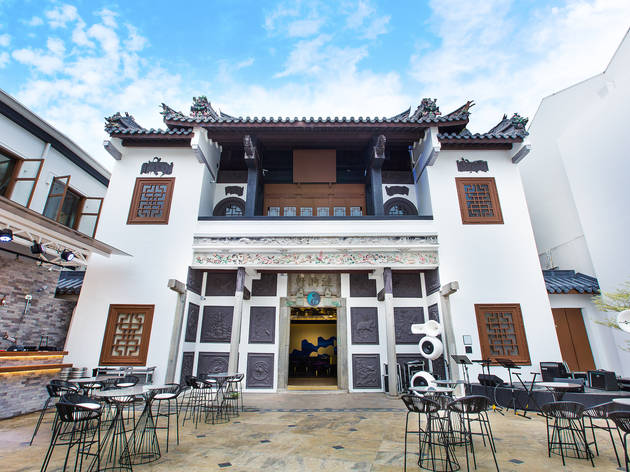 Photograph: Yin at The Riverhouse
Bars and pubs Raffles Place
This buzzy outdoor bar is located at the front porch of the oldest building in Clarke Quay. Rumour has it that the space used to serve as the headquarters of the notorious Ghee Hok Society triad. Now, the place has been spruced up to host a slew of food and beverage concepts, including Yin. Sip on beers and spirits, and tuck into small plates of mod-Chinese cuisine, inspired by its shadowy past.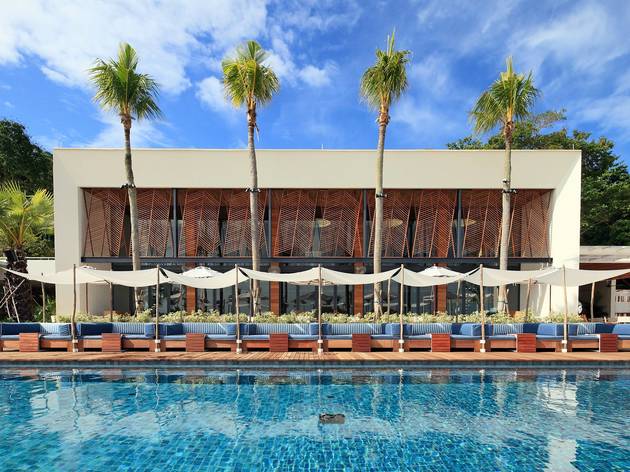 Photograph: Tanjong Beach Club/ Facebook
Clubs Sentosa
This is the place to be if drinks on the beach at any time of day sounds perfect to you. Tanjong Beach Club has a huge list of drinks, ranging from beers like Little Creature Bright Ale ($16) and cocktails like a Piña Colada ($23) to wines and bubbly. All you have to do is pick your booze, lay on one of its day beds (minimum spend from $50), and savour the ocean view while you get a tan or star-gaze.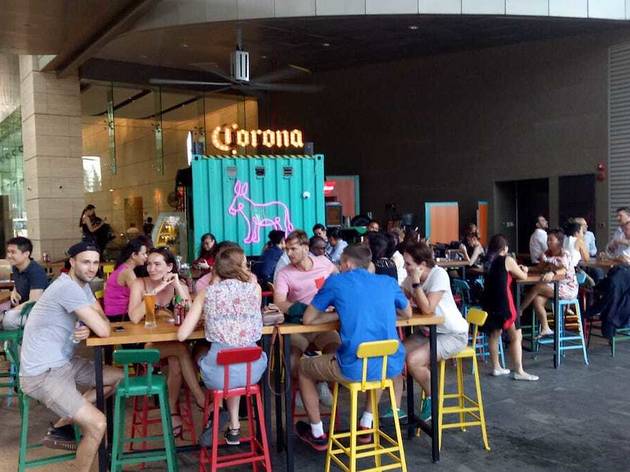 Photograph: Chimi's
Bars and pubs Tapas bars Raffles Place
Head down to Chimi's for a different type of alfresco experience. Located in the CBD, this ground-level Mexican cantina is set in a 20-foot container with bar tables and stools surrounding it. The spot serves tipples like frozen margaritas ($18), good ol' draft beers (from $12.80), spirits, and bubbly. Pair your drinks with bar bites like tacos ($12), quesadillas ($14), and guac and chips ($7).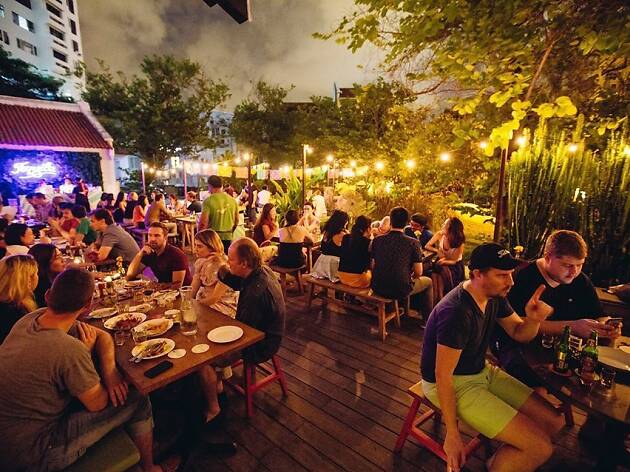 Photograph: Lucha Loco
Restaurants Mexican Tanjong Pagar
Go loco and indulge in delicious Mexican grub at this cocina and garden bar. Priding itself in providing an authentic and casual Mexican experience, Lucha Loco's menu is inspired by Mexico's street fare. It dishes out contemporary Mexican food, paired with happy hour deals of $11 frozen margaritas, draught beer, and house spirits.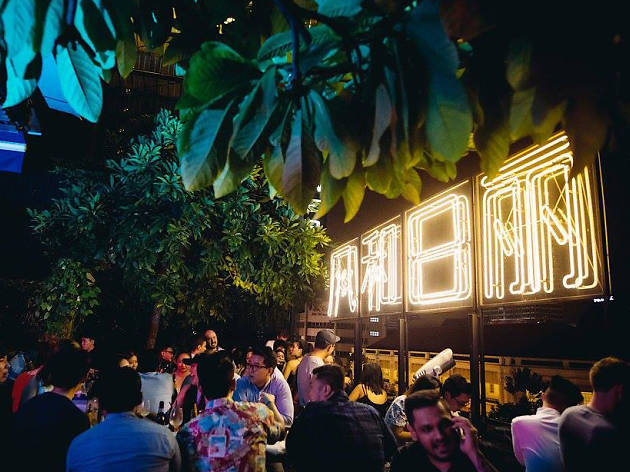 Photograph: Loof
Bars and pubs City Hall
Loof is the place to be for locally-inspired cocktails like Changi Apricot and Little Pink Dot, and dishes like the chilli crab waffle fries ($15) and Loof Original Ramly burger ($23). Its happy hour promo is probably one of the best in town, with prices of spirits and wines going for $6 from 5pm, and increasing by a dollar every hour till 8pm.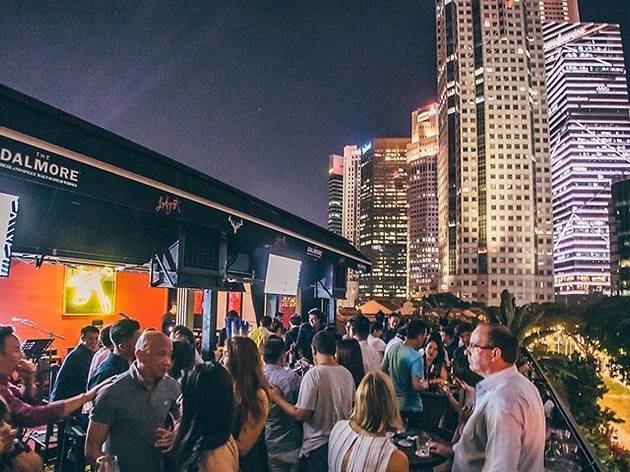 Photograph: Lady Wu/ Facebook
Bars and pubs Raffles Place
Occupying what used to be The Mad Men Attic Bar, Lady Wu is a rooftop bar in Boat Quay. The concept of this drinking venue is based on the Tang Dynasty, so expect a kitschy oriental feel from the decor and staff uniforms right down to the food and drinks. Tuck into Asian tapas like wagyu beef cubes ($18), kung po chicken ($12), and lobster garlic fried rice ($24). Then wash them down with soju ($18), wine ($12), and classic cocktails (from $16).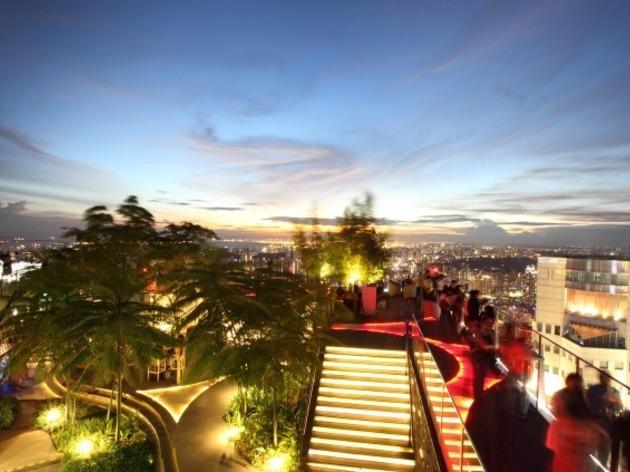 Photograph: Warren Wee
Clubs Raffles Place
Sitting at 282 metres above the ground, 1-Altitude proclaims itself to be the highest alfresco bar in the world. This popular CBD rooftop haunt offers not just oh-so-amazing panoramic views of the city but also an extensive list of high-end cocktails (from $18) and drinks. It sees live music performances from top local bands and internationally renowned DJs, and even has a lowered dance floor for party animals to show off moves after having a couple of tipples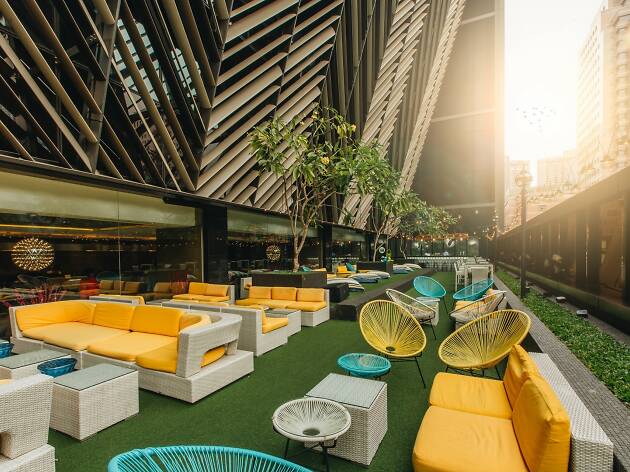 Photograph: Bar Canary
Bars and pubs Cocktail bars Orchard
The tropical vibes at this rooftop bar is real – think a garden setting with bright alfresco furniture and fairy lights. And that's not all. Other than the predictable list of alcoholic drinks you can find elsewhere, Bar Canary's menu features summery-inspired drinks like boozy ice pops made from fresh ingredients which you could have by the stick ($6) or dunked into unique alcoholic concoctions ($22).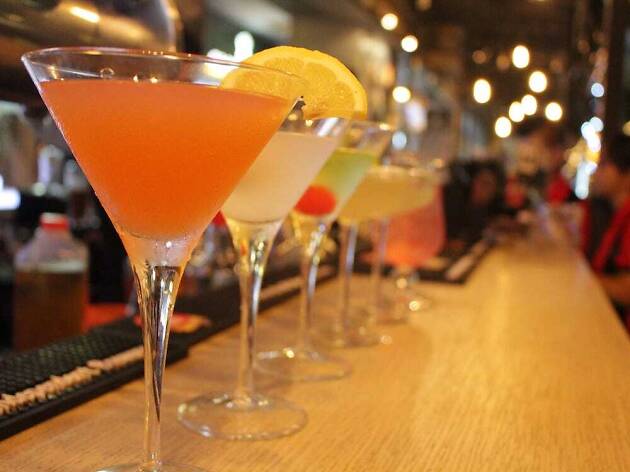 Photograph: Beer Factory
Bars and pubs Craft beer pubs Chinatown
As its name suggests, Beer Factory specialises in beer from both international and local brands. There's the typical Hoegaarden ($9) and Corona ($9) but if you're down for something different, it carries brews from RedDot BrewHouse (from $13) too. You can also find a selection of wines, cocktails and shots at this alfresco bar. Feeling peckish? Its food menu features dishes from a variety of cuisines, like pastas (from $14) and kebabs (from $13).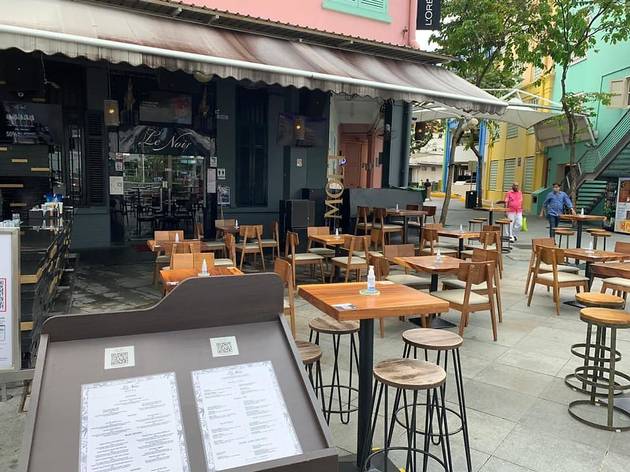 Photograph: Le Noir/ Facebook
Clubs Raffles Place
If it isn't the live music that draws your attention, it's probably the walk to neighbouring clubs Zouk and Get Juiced that got you to turn your head. Le Noir's renowned live music scene, alfresco location by the Singapore River, as well as occasional football screenings have made this Clarke Quay drinking hole a crowd-favourite. On its menu are the usual spirits, wines, and cocktails, plus bar bites like nachos ($18) to complement your drink. It offers happy hour deals too, with house pour spirits and wines going for just $10.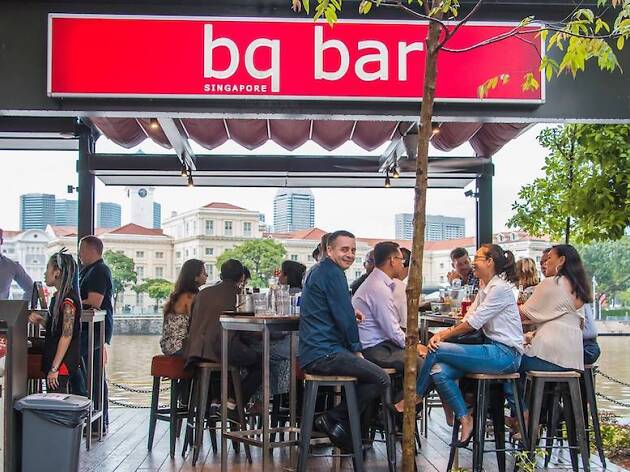 Photograph: BQ Bar
Nightlife Late-night bars Raffles Place
Situated along Boat Quay, BQ Bar is an unpretentious and modern riverfront bar in the CBD. It features both interior and alfresco seating, with the latter being the majority's preferred choice as you'll get stunning views of the Singapore River, Asian Civilisations Museum and The Fullerton Hotel. This drinking hole is known for its mojitos ($14), martinis ($14) and specialty kebabs (from $17).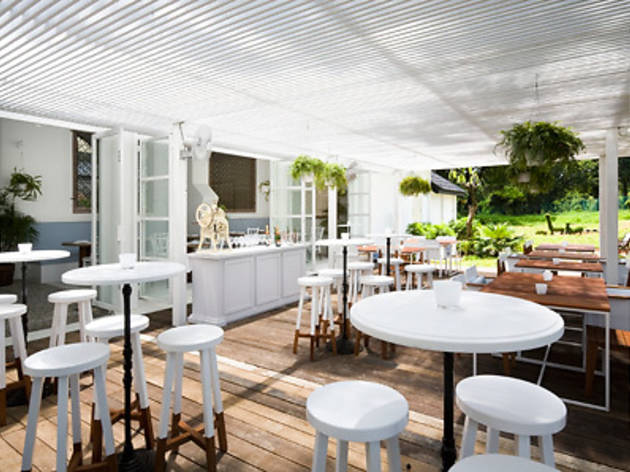 Photograph: The Rabbit Hole
Clubs Tanglin
(Temporarily closed)
Rabbit Hole is the country's only gin-focused bar set in a garden. Its located in the lush grounds of Dempsey, giving off a classy yet serene ambience. The menu follows a botanical theme, comprising a selection of craft gins that are garnished with herbs that the bar grows and mixed with housemade tonic. This garden escape also serves signature cocktails like Roast Capsicum Margarita ($17), and Pineapple and Sage Mojito ($19), beers (from $12), and mocktails ($9).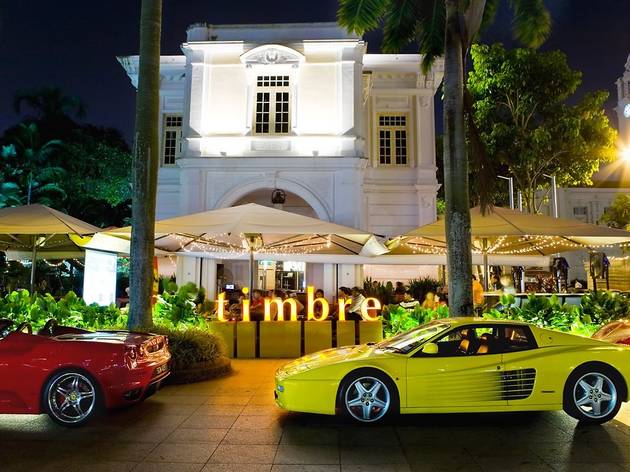 Photograph: Timbre
Clubs City Hall
(Temporarily closed for renovations)
This live music restaurant and bar by the Singapore River features both alfresco and indoor seating, with the former making up the bulk of this venue. Its menu sees a wide selection of pasta, pizza, and tapas that leaves you spoilt for choice. It offers daily promotions on tipples as well, giving you a free plate of tapas with every two glasses purchased. While you sip on your poison and fill your bellies, enjoy nightly music performances by a rotating schedule of musicians.