If you're in need of some me-time, a reprieve from the world, or even a new fitness regime, this may just be the article for you. Today, we're looking at the studios with the best yoga classes in Singapore.
Doing yoga exercises can help you achieve better awareness of your own nature and the mindfulness necessary for it. But of course, different yoga classes may offer different experiences when working towards those things.
We took that into consideration when putting together this list. At the end of the day, we found that these 10 studios offer the best yoga classes in Singapore by dint of being the best-instructed, best-situated, and best-managed.
Both yoga greenhorns and longtime practitioners should find classes to suit them from the studios in the list below.
1. Yoga Bar
BEST FOR: Classes are open for every level, except it stated.
PRICING: Rates
WEBSITE: http://www.yogabar.sg/
ADDRESS: Far East Shopping Center, #16-01, 545 Orchard Road Singapore – 238882
CONTACT DETAILS: Mobile: (65) 87818254 | Email: info@yogabar.sg
OPERATING HOURS: http://yogabar.sg/web/schedule.php
Yoga Bar is a humble studio located in the heart of Orchard. They offer a variety of classes for those seeking an authentic yoga experience.
From Hatha to Chair Yoga, from slow pace to the upbeat movement — you'll find what you need here. They also offer nature and yoga retreats for yoga enthusiasts.
SERVICE HIGHLIGHTS
Allows up to 15 persons per class

Safe and supportive community

Simple studio decor (cosy and non-threatening)
CUSTOMER REVIEWS
This is a very popular studio on the island because it does offer some of the best yoga classes in Singapore. Take a look at this recommendation from an anonymous customer online:
"Yogabar offer Hastha, which Dwi the lead teacher created the sequence. It is combination of Hatha and Ashtanga, it start with slow movement from Sun salutation and slowly the beat up to one breath one movement. Simple sequence with a little bit of twist. Surely make you sweat and challenge yourself out from your comfort zone. Dwi is known as a no-nonse teacher, and very refreshing at the same time.""
2. Yoga Inc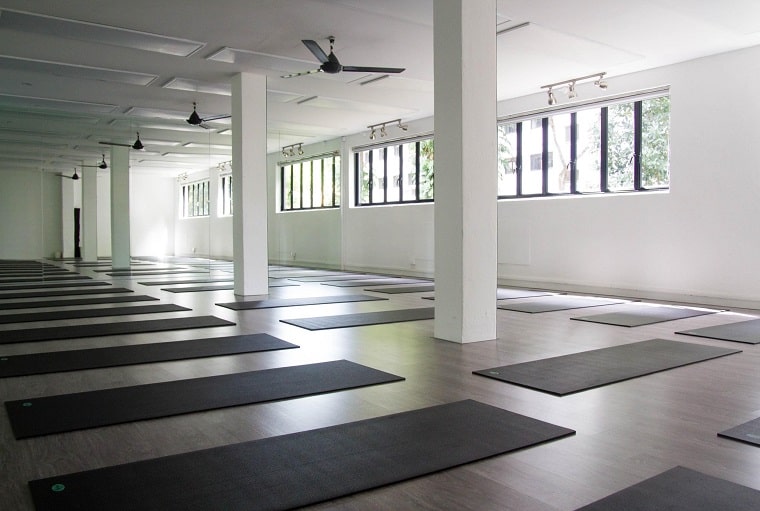 BEST FOR: Prenatal classes and special workshops
PRICING: Rates
WEBSITE: http://www.yogainc.sg/
ADDRESS: http://www.yogainc.sg/contact.html
CONTACT DETAILS: http://www.yogainc.sg/contact.html
OPERATING HOURS: http://www.yogainc.sg/schedule.html
Despite its minimalist studio design, Yoga Inc's classes are rich and dense with yoga instruction. Throughout the years, they've continuously and consistently provided classes and training for yoga lovers on the island.
Their classes range from ones on the all-important basics to powerful advanced sessions. They also have the necessary facilities such as shower stalls and locker rooms.
The best thing about this studio is the availability of practical packages and memberships! That means you can join the best yoga classes in Singapore without spending a dollar more than necessary.
SERVICE HIGHLIGHTS
Simple yet retro-inspired design
Spacious and comfortable zones
Feel-at-home ambience
CUSTOMER REVIEWS
Patrons agree that Yoga Inc has the most encouraging teachers, a nice and cool interior design for their premises, a motivational environment, and a good selection of different types of classes. Their regular customers believe this makes the company a reliable fitness partner.
A reviewer from TallyPress expressed his/her thoughts about the studio:
"All their studios are non-air-conditioned; however, it is not to save money. In fact, it costs more to set up the ventilation system at their new outlets which does not have nice big windows like Guillemard. Honestly, Ashley thinks it is better to practice yoga without aircon. Yoga Inc. makes sure there is comfortable space for everyone. They try not to max out their rooms by squeezing everyone in like sardines.
They have good full facilities (showers, mats, towels, water dispenser, lockers etc) so it's really convenient for members. There is no hard selling of packages and prices are transparent. Best of all, there is no long term commitment and hidden charges."
3. Yoga+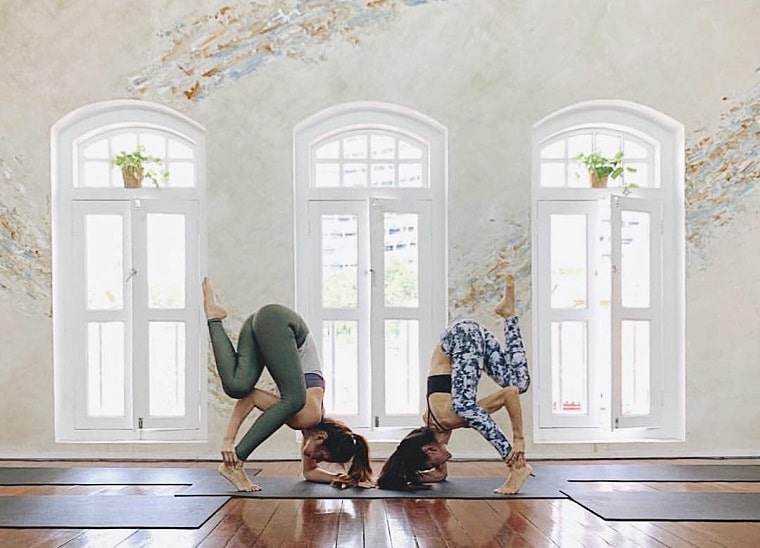 BEST FOR: Vinyasa-based and Unlimited Class Bundles
PRICING: Rates
WEBSITE: https://www.yogaplus.sg/
ADDRESS: https://www.yogaplus.sg/say-hey/
CONTACT DETAILS: +65 9114 1639
OPERATING HOURS: https://www.yogaplus.sg/schedule/
If you want to experience yoga on a whole 'nother level, Yoga+ is the ideal option for you. They explore infinite possibilities for routines and life habits that can be incorporated into yoga.
Literature is also a part of their instructional approach, as they introduce books and art jams that will help yogis gain a wider perspective. The most important out of all their services is education about social issues and self-awareness.
Overall, they're great if you want to integrate yoga and its teachings into your life. It's not hard to see why many people consider their offerings to be among the best yoga classes in Singapore.
SERVICE HIGHLIGHTS
Regular art jams and book clubs
Up to 15 students per class
Classes about social awareness
CUSTOMER REVIEWS
Satisfied customers can't help but come back because of their consistently high-quality services and ability to stimulate productivity and progress. A reviewer from The Yoga Society Blog wrote this feedback:
"Yoga+ is one of the few studios where I've purchased package after package. I stock up every time they have a sale because I know I'll be back for sure.
Yoga+ offers a wide range of classes from basics to advanced inversions. Yoga+ seems to attract a fit and young crowd whose preference leans towards stronger inversion and flow classes. The "+" behind the name of the class indicates that this it is an intermediate/advanced class.
I love that the team always come up with creative flows and transitions, so each session is a different challenge but always great fun. Other than the 3 founders, I really enjoy Fizzy's classes and his ones are the ones I regularly attend. Other than Suffian, Kim is my favourite Invert teacher, because she runs the class workshop-style and doesn't tire us out before inverting."
4. Art of Yoga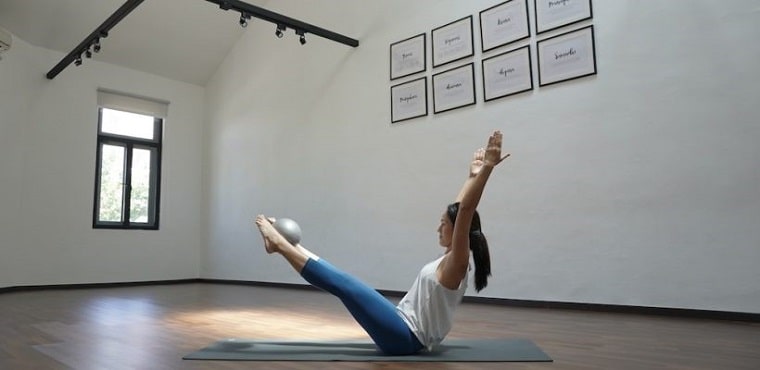 BEST FOR: Kids' Yoga pass, experienced instructors
PRICING: Rates
WEBSITE: https://artofyoga.sg/
ADDRESS: 119, 121 Upper East Coast Road, #02-01 Singapore 455245
CONTACT DETAILS: +65 9863 9610
OPERATING HOURS: Monday to Friday 6:30am – 9:15pm / Saturday 7:30am – 5:00pm / Sunday 9:00am – 6:30pm
Of all the studios in this list, Art of Yoga has perhaps the most classes and students. That means you can easily find what class type and schedule is right for you, thanks to the range of choices.
Aside from competent services, they also have a shop that sells artisanal products from famous brands and a community cafe. To be kept updated about the latest events in the studio, they have an app that will help you manage your bookings and schedules.
Here's a tip for the beginners, by the way: you can book a trial session for only $10!
SERVICE HIGHLIGHTS
Retail shop and community cafe
Safe and supportive community
Convenient location
CUSTOMER REVIEWS
Customers have praised the different types of classes, serene and cosy environment, accommodating reception, useful merchandise, and cheap trial sessions here. That's why people have also been recommending the studio to their family and friends.
Frances Gomez left this 5-star rated feedback on Google Reviews:
"Well firstly, the spaces i.e. the studios, the little cafe, and the reception area are all so fresh, calming and welcoming. I love the fact that there is complimentary tea and that if people want the special teas or bottled water there is a pot for them to pay for it. I like that element of trust. Secondly, the variety of classes which target different needs; spiritual, physical or psychological/emotional. From various types of yoga to Qi Kong to Om breathing to Yamuna body rolling I feel I can get everything in one place😁 and am never bored. Most importantly, the people. The receptionist and the instructors are all friendly, well informed, helpful and come across as genuine people. I won't be looking any further. This is the studio for me. I always get a great workout and leave feeling at peace with myself!"
5.Yoga Mala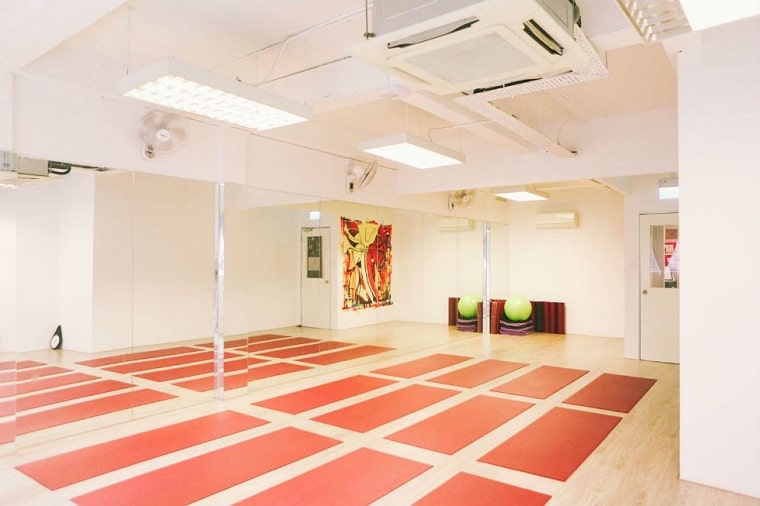 BEST FOR: Mixture of old and new yoga practices
PRICING: Rates
WEBSITE: https://yogamala.com.sg
ADDRESS: 49A, Circular Road, Singapore 049404
CONTACT DETAILS: 468035031 , 84981649
OPERATING HOURS: Mon – Fri: 7am – 9pm / Sat: 8:30am – 3pm / Sun: 7am – 11am
Yoga Mala proves that traditional yoga instruction and sessions can be merged with the modern lifestyle. Out with the old and in with the new is never an option for them, since they honour both past and present with the respect both deserve.
This studio is known for its yoga sessions that are ideal for beginners trying to adjust to a new lifestyle. They also offer training and workshop events with retreats.
SERVICE HIGHLIGHTS
Various events and offers
Spiritual traditions
Strong focus on meditation and breathing techniques
CUSTOMER REVIEWS
Most customers claimed that they gained self-improvement, physical and mental strength, and enhanced mindfulness after taking some classes from this studio. Livia from Expat Choice wrote this review:
"So glad to find such an authentic yoga studio with genuine instructors who are always all smiles and ready to help you progress in my yoga practice. Love it especially that they inject pranayama practices into some of the classes too! We definitely need more of that! The variety of classes means we get to enjoy the different yoga practices that best suit our needs. Personally, I found Mien's Yoga Mala class really enjoyable where I get to try many new practices including inversions and pranayama all in 1 class! Highly recommended!"
6. Yoga in Common

BEST FOR: Classic, creative, calming and special yoga classes
PRICING: Contact for more information
WEBSITE: http://yoga-incommon.com/
ADDRESS: 22 Petain Rd, Singapore 208095
CONTACT DETAILS: 9698 5771 (SMS and voice only) / contact@yicsingapore.com
OPERATING HOURS: http://yoga-incommon.com/timetable/
Yoga in Common offers mindful and supportive yoga classes. To quote from their website:
"Yoga should be practised with mindfulness and care. Our classes are small and personal so that we can dedicate our attention to you. We respect your unique journey and we look forward to sharing our love and knowledge of yoga with you."
SERVICE HIGHLIGHTS
Option to meet their expert instructors at http://yoga-incommon.com/teachers/
Studio passes and rent are available
CUSTOMER REVIEWS
Patrons of YIC state that the yoga studio offers quality instruction in every class, with yoga instructors making an effort to guide both newbies and seasoned practitioners according to their needs.
Here's a 5-Star Google review from Pam:
"I visited Singapore about a month ago and found the studio by chance as I was staying in the area. The studio was absolutely beautiful. Serene, calm and welcoming – there's a beautiful hand drawn mural on the wall that adds to the authentic yogic ambience. The teachers were excellent – friendly, attentive and caring. I tried the Yin Yang class and I came out of it in high spirits all day. I decided to go back again and enjoyed the stretch class and the flow class. It's nice to go to such an inviting space and am definitely look forward to going back. Shame they aren't based where I live You must go there if you live in Singapore. It's a waste not to try it out for yourself!"
7. Vyasa Singapore
BEST FOR: Certified and accredited yoga classes
PRICING: Contact for more information
WEBSITE: https://www.vyasasingapore.com/
ADDRESS: Civil Service Club #03/05, 60 Tessensohn road, Singapore 217664
CONTACT DETAILS: 96262425 | enquiry@vyasasingapore.com
OPERATING HOURS: https://www.vyasasingapore.com/class-schedule/
Founded in 2011, Vyasa Yoga Singapore was built in affiliation with S-VYASA Bangalore, an Education Establishment with a global reputation. With accreditation from an International Organization such as S-VYASA and their scientific approach to yoga, it's no wonder they offer some of the best yoga classes in Singapore.
Today, their family extends to over 2,000 trained yoga instructors and 500 trained yoga therapists, as well as numerous students.
SERVICE HIGHLIGHTS
CUSTOMER REVIEWS
Patrons love the professionalism and holistic attitude to yoga in this studio. Here's aFacebook 5-Star Review from Siok Fang Liew that shows you why:
"AHYICC is excellent! Dr Kuldeep has extensive knowledge which he imparts clearly and systematically. The answers which he gives to my many questions are always insightful – turning grey areas into what is simple and easy to understand. He brings to his teaching an affable nature and great experience, wisdom and care. A thoroughly enjoyable learning journey!"
8. All About Yoga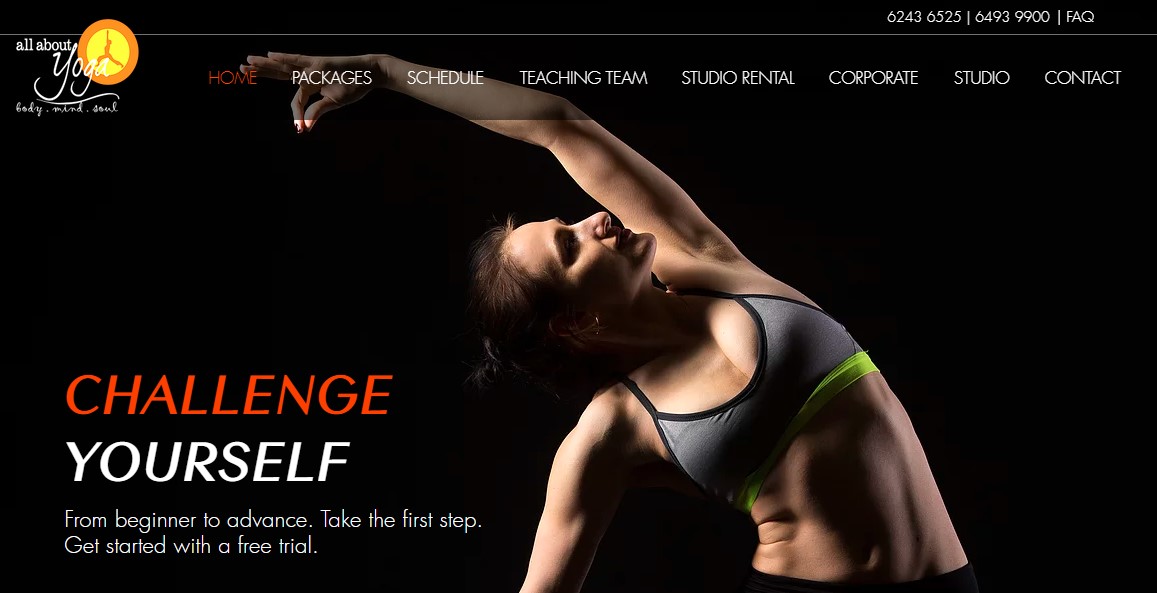 BEST FOR: Aerial yoga, yoga, TRX
PRICING: Contact for more information
WEBSITE: https://www.allaboutyoga.com.sg/
ADDRESS: 30 Tai Seng Street #08-04 BreadTalk IHQ Singapore 534013
CONTACT DETAILS: 6243 6525 | 6493 9900
OPERATING HOURS: https://www.allaboutyoga.com.sg/yoga-class-schedule
All About Yoga offers various packages for those who want to get into the practice from all walks of life, offering 17 classes a week. If you want to give yoga a try without the full commitment, your first class with All About Yoga is also free!
SERVICE HIGHLIGHTS
CUSTOMER REVIEWS
Customers like the friendliness and capability of AAY's yogis, as well as their ability to promote emotional health during sessions. The free first-time session also received a lot of praise.
Take a look at this Facebook 5-Star Review from Jackueline Rozario:
"I have been going to All About Yoga for almost 3years now.
They have good yoga teachers who are very dedicated to their students health, well being & exercise routines.
The yoga teachers pay special attention to those students who have injuries. I always feel so good after the exercises i do.
The staff are very warm , friendly, courteaus, accomodating. The classrooms are always very clean.
It really feels like home, thats why i always look forward to coming down for my yoga exercises."
9. Freedom Yoga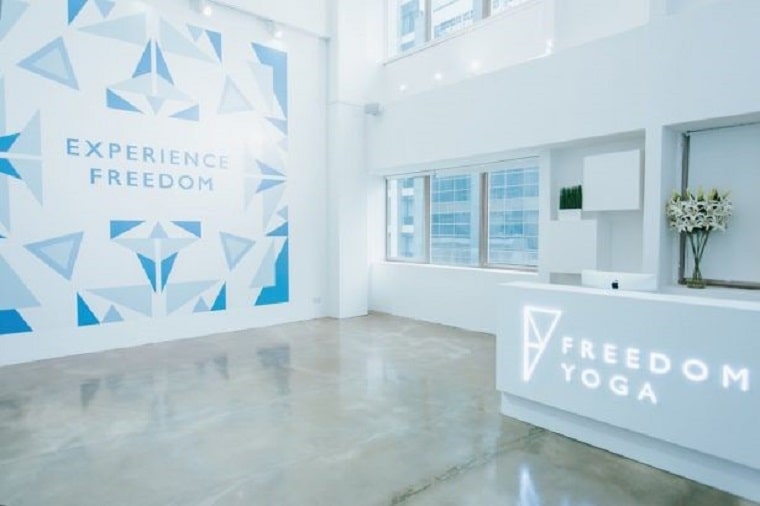 BEST FOR: Productive classes, outstanding facilities
PRICING: Rates
WEBSITE: http://www.freedomyoga.sg/
ADDRESS: http://www.freedomyoga.sg/find-us
CONTACT DETAILS: http://www.freedomyoga.sg/find-us
OPERATING HOURS: http://www.freedomyoga.sg/find-us
Whether you are a beginner or an expert in doing yoga exercises, Freedom Yoga will always guide you towards a healthy lifestyle. They also boast all the facilities you need to start getting into the practice of yoga, from studios to showers and lounges where you can interact with others on the same path to discipline.
They also have a remarkable reward program called Wheel of Life challenge, in which you can get a chance to take 3 complimentary classes and go on a paid reward trip!
SERVICE HIGHLIGHTS
Wide range of exercises, from the basic up to the master routines
Friendly and accommodating staff
Satisfying rewards
CUSTOMER REVIEWS
Customers praised the yoga studio for its values and vision of building a united community where each individual has the ability to empower himself or herself. Regardless of your age, gender, build, or experience, they found themselves supported by the studio's instructors in a way that was tailored to their needs.
A reviewer from NookMag wrote:
"The cosy, boutique-style studio on the second floor of a shophouse in Lorong Liput promises to continue all the things that Freedom Yoga has come to be known and loved for: an airy space full of natural light; rain showers and complimentary towels; and of course, dedicated instructors on hand to ensure that each class is enriching, fulfilling, and invigorating."
10. Ojas Yoga & Wellness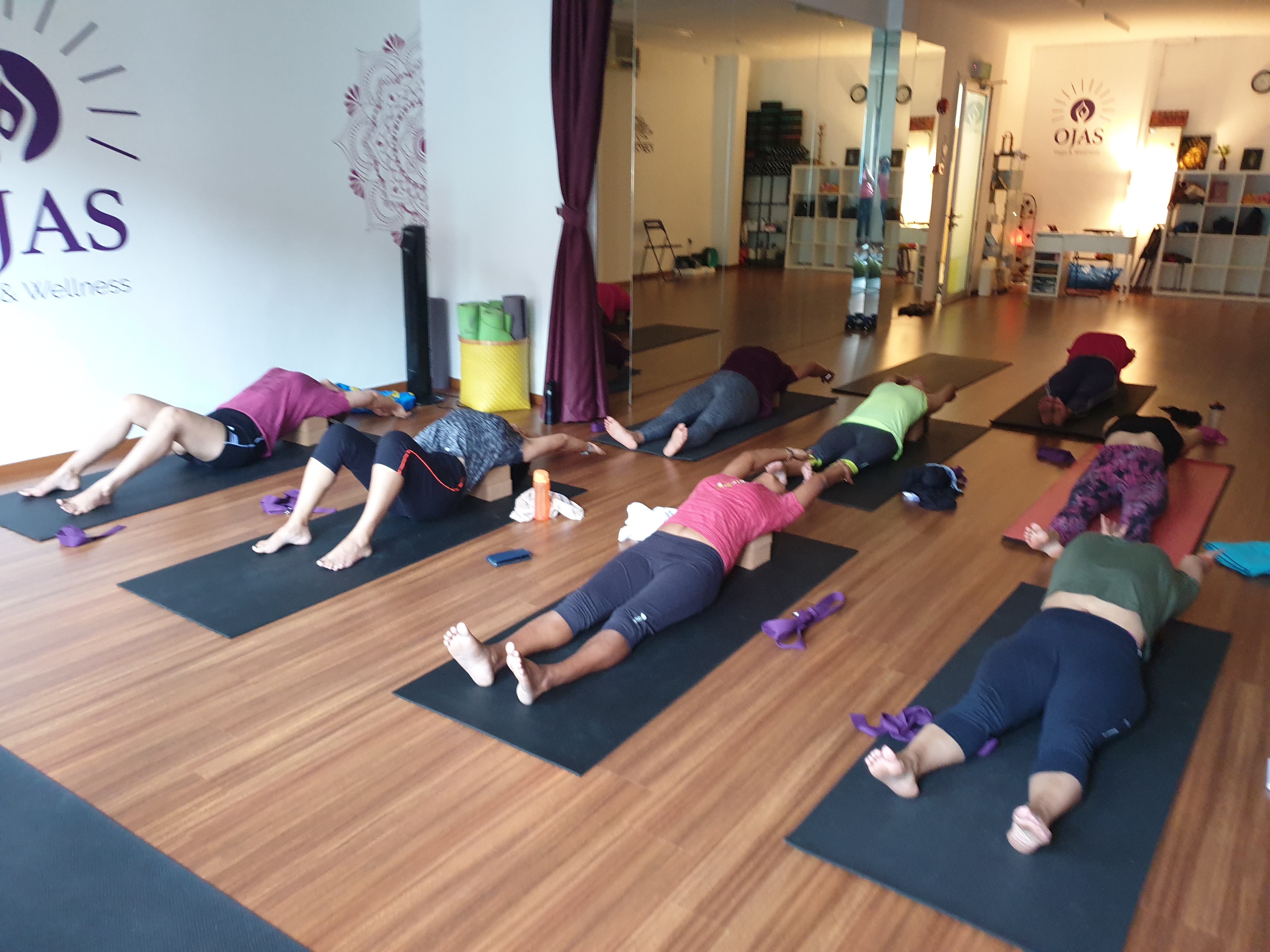 BEST FOR: Yoga, Meditation, Healing and wellness
WEBSITE: http://ojasyog.com/
ADDRESS: 359, Joo Chiat Road, Singapore-427604
CONTACT DETAILS: +6581912862
OPERATING HOUR: Monday to Saturday: 6:00 am to 8:00 pm
Ojas Yoga and Wellness offers a range of yoga classes for different needs of people: corporate wellness, yoga therapy, kids yoga, yoga for autism, and many more. But they make sure that each class is enjoyable on its own way.
Their founder is a go getter who shares the positivity brought by yoga in all her classes. With her direction, Ojas Yoga was able to maintain different sets of classes for their clients and even add more exciting events every now and then.
The routine in their teachings is based on Pancha Kosha System. They teach their students to believe before action, which means to let their body heal itself for a balanced mental health and body.
SERVICE HIGHLIGHTS
Group Classes
Private Classes
Kids Yoga
Yoga therapy
Corporate wellness
Sound bowl healing
CUSTOMER REVIEWS:
Their students are surely enjoying their time at Ojas Yoga, as evident on their online ratings and reviews. This yoga class has a perfect five score on Google reviews.
Check what their clients say below:
"She makes a great Yoga and wellness teacher because she is a great human being, and which reflects in her practice. Having said that, a thorough professional with amazing calming voice. She is a great yoga guru. Highly recommended. She will make you fall in love with yoga."
"Great experience with this lovely lady!! Thorough professional with a calm soothing voice. Always actively involved in every class participant progress keeping in mind their weaknesses. It feels so good after each and every class!"
11. Yoga Vihara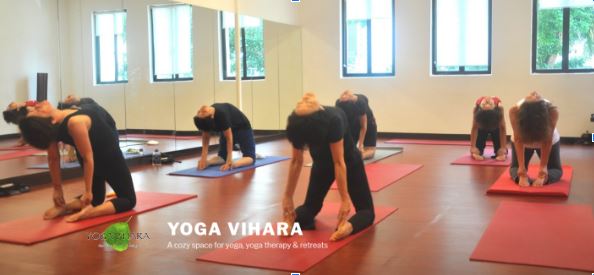 Yoga Vihara is a safe homely place for yoga students and people seeking yoga therapy for various medical conditions. They are highly dedicated to pursuing Yoga not just as an exercise per se but as a form of therapy.
They believe in the therapeutic power of yoga in helping people lead happier, healthier and more balanced lives.
The things that set Yoga Vihara apart from other yoga studio is their authentic Hatha Yoga classes and bespoke personal classes.
All these are done in their cozy yet spacious studio that is facilitated by their expert yoga teachers.
Service Highlights
Authentic Hatha Yoga Class
Free private sessions for absolute beginners
Yoga Therapy Sessions
Customer Reviews
Yoga Vihara continues to garner more students year after year due to its consistent quality trainings and facilities. People especially like the calming ambiance of the space available for their classes. Read what people are saying about them below:
"Outer facade of the shophouse is nothing to shout about, but a friendly atmosphere and cozy studio awaits inside. Love the fantastic classes by Bisu (as always!)." – Min Min Lin
"Nice atmosphere, quality teaching and great location." – Ben Bruno
The yoga studios above give you a chance to try out the best yoga classes in Singapore. With studios and classes like these, you can truly delve into and start practicing a healthier lifestyle and mindset.
12. UNION YOGA AYURVEDA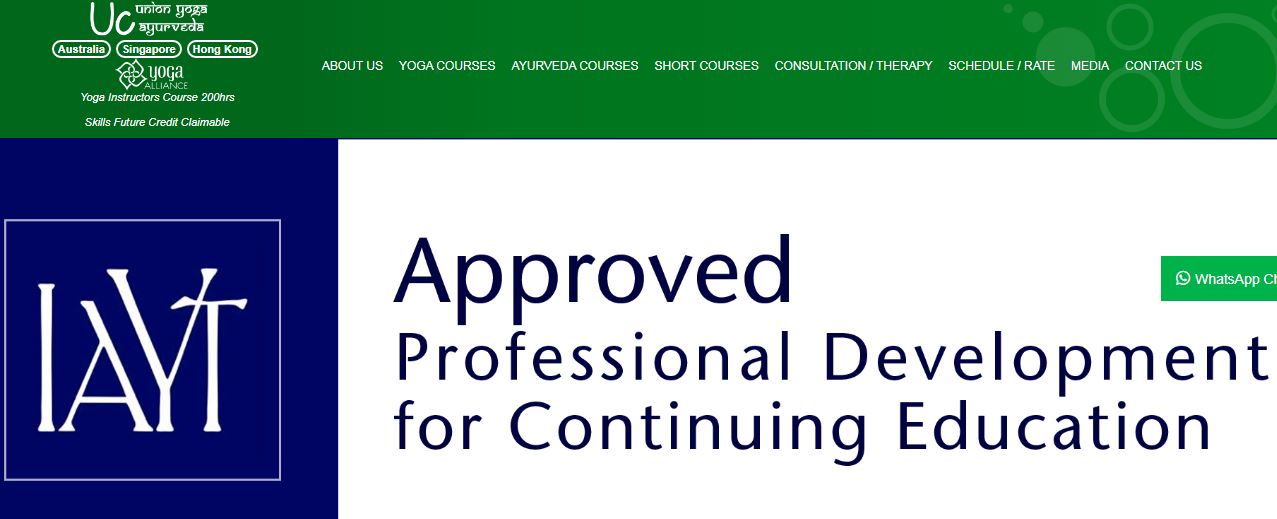 BEST FOR: Yoga school for Yoga Teacher Training and Yoga therapy training with master degree holders and doctors teaching yoga and therapy
PRICING: Depends on the classes
WEBSITE: https://www.unionyogaayurveda.com.sg/
ADDRESS:14D Jalan Masjid, Kingston Terrace #01-01, Singapore-418935
CONTACT DETAILS: (65) 8321 6170, (65) 8133 7608 | unionyogaayurveda@gmail.com
OPERATING HOURS: Monday to Sunday, 9:00 AM – 9:00 PM
Focused on classes for Yoga Instructors, Union Yoga Ayurveda is currently the only one in both Singapore and Hong Kong who has all the Accreditation of Registered School in Yoga Alliance. They aim to become a become an institute that trains and educates individuals as best teachers for yoga and Ayurveda principles, with long term field training and internship.
SERVICE HIGHLIGHTS
Various Yoga instructor classes: Yoga Instructor Course | YICC | Yoga Teacher Training | YTTC | Yoga Therapy Training | Ayurveda Therapy Training | Corporate Yoga Classes
Authentic quality based, research-proven Yoga practice, Teacher Training, Therapist Training, Ayurvedic lifestyle guidance, Integrative therapy
CUSTOMER REVIEWS
Facebook recommendation from Delphine Corbin:
"Union yoga ayurveda is a great school an wonderful healing center. I learned yoga therapy and ayurvedic medicine with Dr Satyam. Dr Satyam is a very professional and knowledgable doctor, highly scientific, passionnate and caring for his students and patients. I am so grateful for everything I learned and for the people I had the chance to meet and work with."
13. PLATINUM YOGA
BEST FOR: Aerial and Rope Yoga
PRICING: Depends on the classes
WEBSITE: https://platinumyoga.com/
ADDRESS: 51 Ang Mo Kio Avenue 3, #02-01. Singapore 569922
1 Marine Parade Central, Parkway Centre, #13-08/09, #11-09, Singapore 449408
Westgate Mall, 3 Gateway Drive , #05-03, Singapore 608532
3 Temasek Boulevard, #02-462-466, Suntec City Mall. Singapore 038983
Westgate Tower, 1 Gateway Drive , #26-01, Singapore 608531
CONTACT DETAILS: Contact information
OPERATING HOURS: Sunday 8:00 AM – 7:30 PM
Monday 8:00 AM – 9:30 PM
Tuesday 7:00 AM – 9:30 PM
Wednesday 8:00 AM – 9:30 PM
Thursday 7:00 AM – 9:30 PM
Friday 7:00 AM – 9:30 PM
Saturday 8:00 AM – 7:30 PM
Platinum Yoga is one of the most renowned yoga studios in Singapore. It offers over 35 types of yoga and pilates to its customers; thus, you're ensured that you'll find a suitable class for you.
The studio specializes in aerial and rope yoga. However, there are other kinds of yoga that you can find on the studio like yoga wheel and weight loss yoga. You may contact them through their site or download the mobile application to know further.
SERVICE HIGHLIGHTS
Offers free trial
Referral privilege
Membership discounts
CUSTOMER REVIEWS
The instructors of Platinum Yoga makes sure that all your effort will be paid off. Let's see what the customers say about the studio.
"The teachers are great and fun. Choices of classes suits me well too!" – Rosalind
14. Om Shiva Yoga

BEST FOR
Shiva Yoga
SERVICES
Kids Yoga, Moms Yoga, Pre/Post-natal Yoga
WEBSITE
http://www.omshivayoga.com/
ADDRESS
100 Turf Club Road, Singapore 287992

45 Jalan Rumia, Chip Bee Gardens, Singapore 278000

Exit Kulai Toll, Johor, Malaysia 45

CONTACT DETAILS
(+65) 90902257/96895392/014-7748276 / 02-90997865

OPERATING HOURS
Schedule
Om Shiva Yoga offers numerous types of yoga classes appropriate for kids and adults. You can choose from their different class packages, ranging from a 10-hour to 50-hour package.
Each of their Yoga classes are designed differently, addressing various health and physical concerns. These are descriptively explained in their website so you can freely choose the one that best matches your preferences.
They also have separate classes for well-aged clients like 40 years old and above that combine slow stretches, breathing techniques and simple asanas.
SERVICE HIGHLIGHTS
Extensive options for yoga classes
Kids to adult sessions
Affordable yoga packages